After a somewhat tiring Day 1, an entire day out for Day 2, we decided to do what's the best thing we can do to rest and recover. An adventure-filled day! Seriously. Thankfully, we only had to leave the hotel at 9am, so we could sleep in till 7.30am or so (unlike the ungodly 2.45am the previous day).
More importantly, we could finally try out the hotel's breakfast! And we're so glad we did! It was one of the most amazing breakfast spreads I've seen. There were food stations (kinda like Marché) for salad, desserts, toasted bread, yong tau foo, yoghurt, local food, etc. And to add to that, the variety did not affect the quality negatively. The food was surprisingly good. Again, I must say Hotel Tentrem keeps impressing us!
After getting our stomachs filled, we met Sapto and headed for our adventures! Sapto took us to Wirawisata, where we decided on the things we wanted to do - Pindul Cave Tubing and Oyo River Tubing - made our payment (ID 120,000/person), put on our life vests and we were off!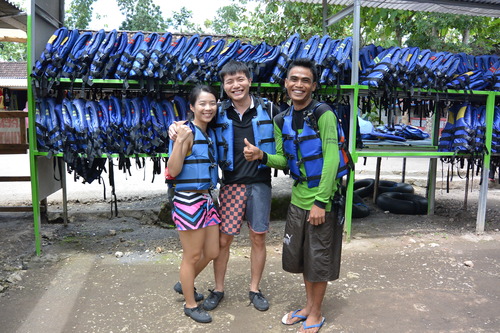 A shot with our guide, Thomas.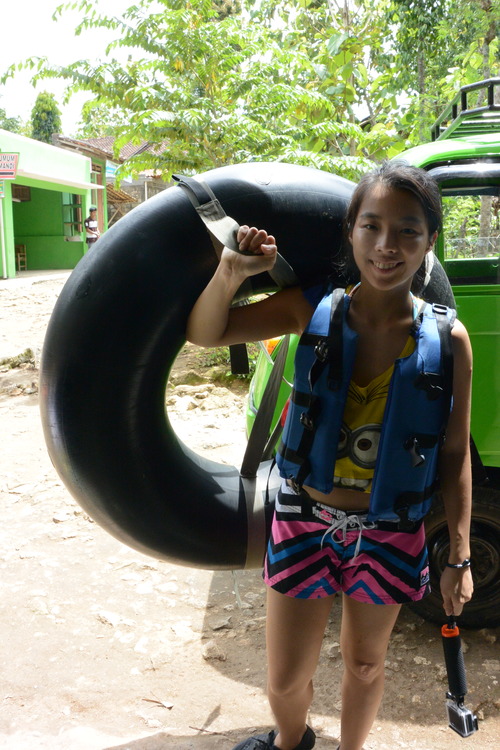 First up was Pindul Cave!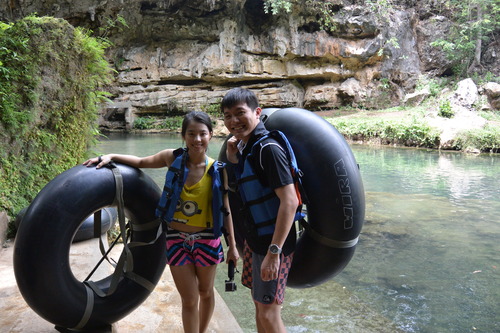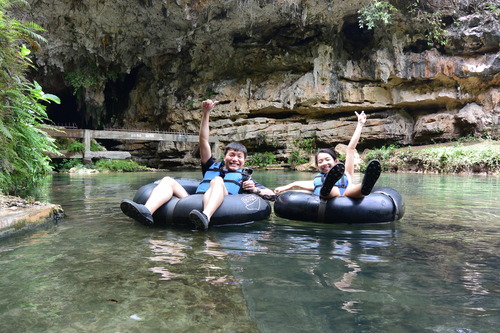 And off we go!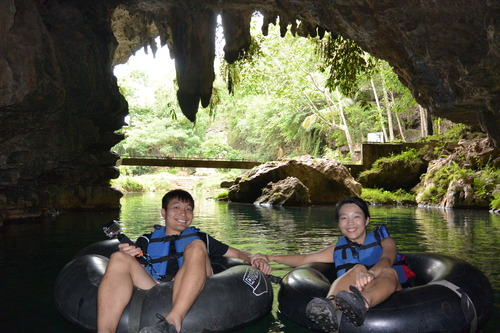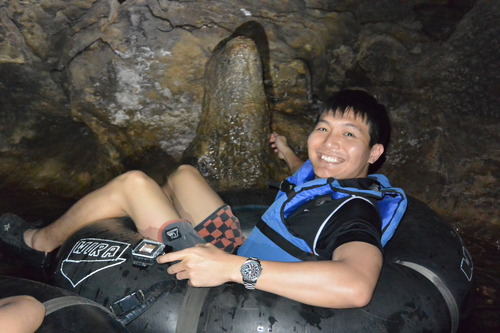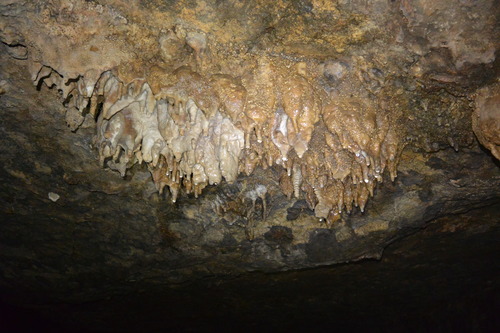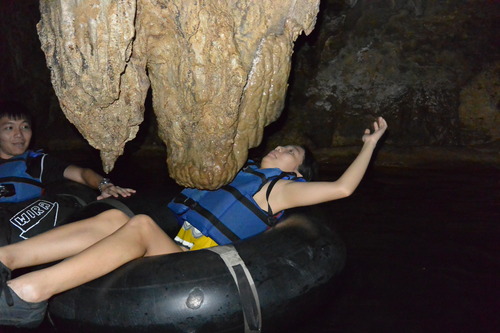 Love this shot! Hahaha.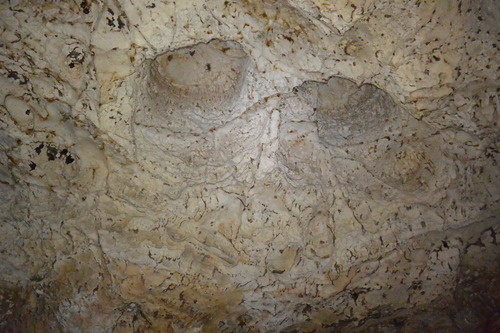 Can you see the skull?

Lots of bats and their markings!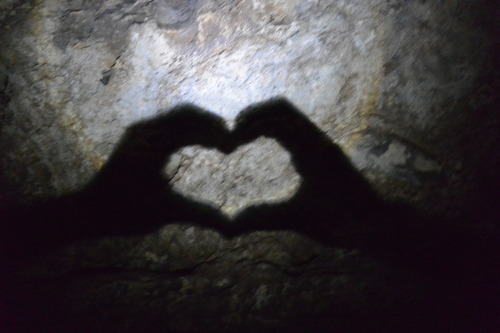 <3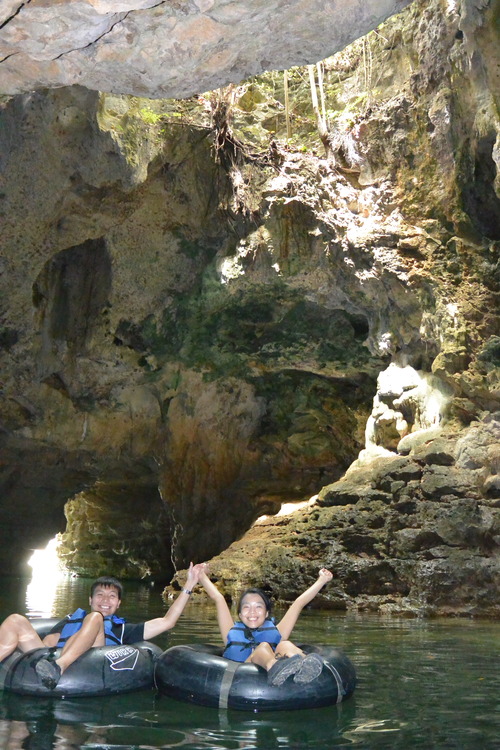 Nearing the other end of the cave!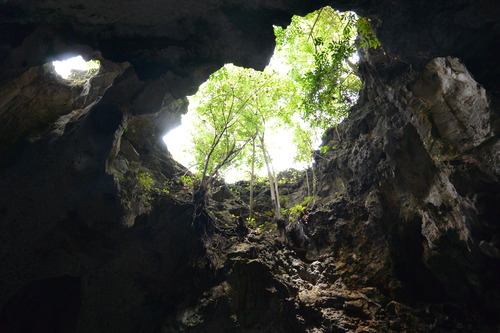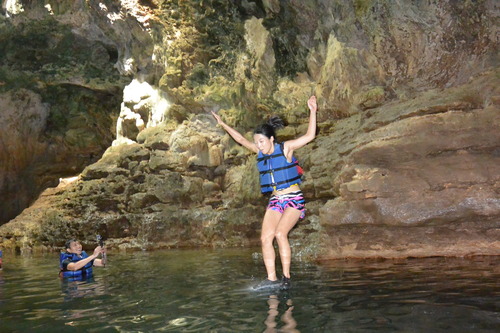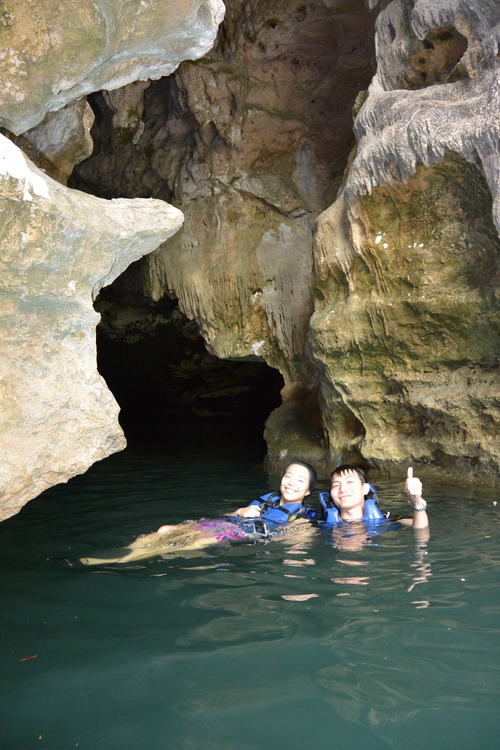 And we're out!
Pindul Cave was really amazing! It was our first time tubing, and tubing into a cave was just surreal. Our guide, Thomas, provided us with lots of information about the cave as well, and he was all around very entertaining and friendly.
Next up was Oyo River! We had to first leave Pindul Cave and head back to the lorry that was going to drive us to Oyo River. Along the way, Thomas showed us this interesting bubble-making leaf!
Once we reached Oyo River, we got onto the tube. Sheryl went ahead first, and unfortunately I was not fast enough to record her being carried down by the river :(. Thankfully Thomas captured a shot of her: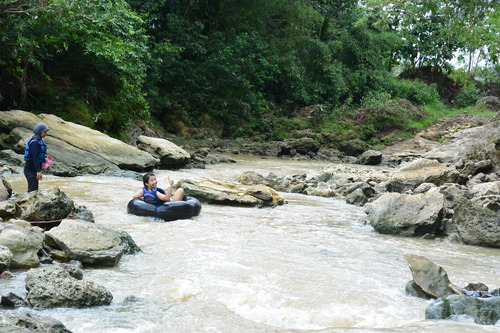 Here's what I recorded in first-person view when it came to my turn:
Oyo River usually has clearer water, but we arrived after a rain, so we had muddy-looking waters instead. It's still very nice and calming sitting in the tube and moving along slowly, taking in the sights and sounds of nature.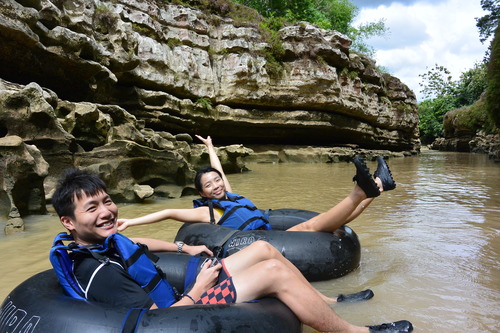 We soon arrived at a waterfall, and there was a platform just beside it. Of course, Thomas urged us to jump from it, and we somehow agreed.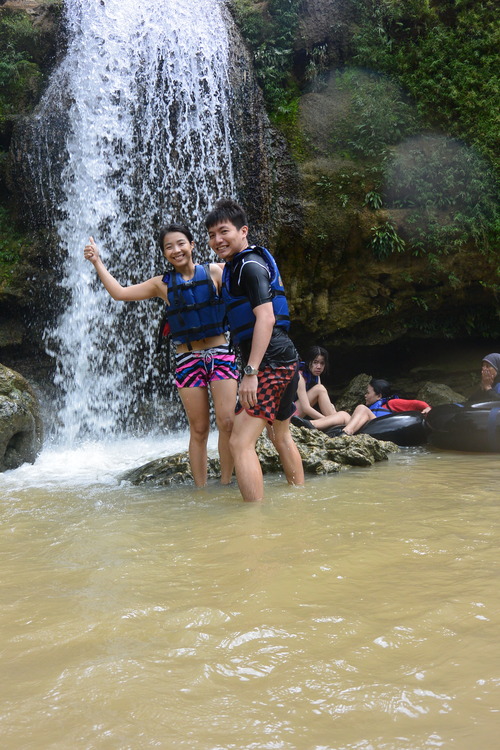 And the jump itself!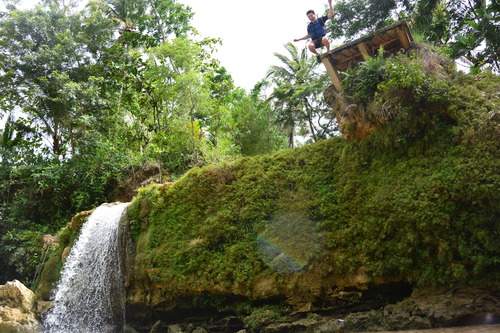 Thomas caught this! Love this shot!
When it came to Sheryl's turn, I was so busy recording it and watching it (not through the camera but directly) that I forgot that I could've snapped some shots :(. I cheated and took a screen capture from the video :P.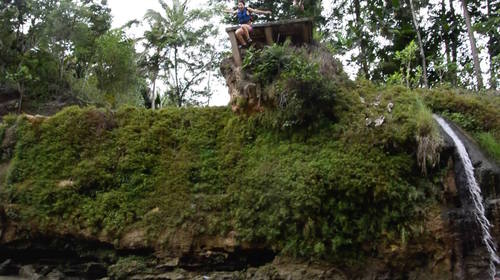 Not too bad, right?
And here're the actual videos of us leaping off. You've to pardon my voice and screaming, I was so excited I think I covered Sheryl's scream completely.
We then went on with life tubing, but not before Thomas captured some great shots!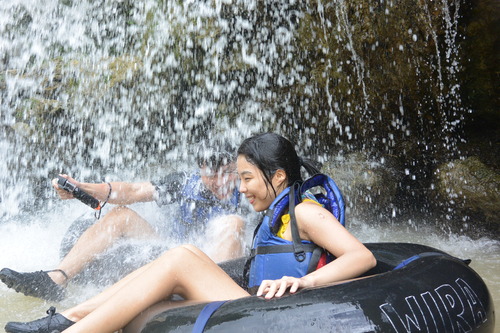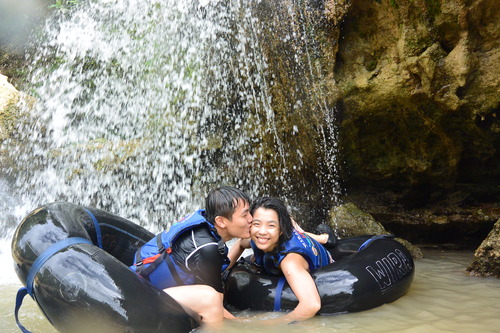 I think this is my favourite shot of the whole trip!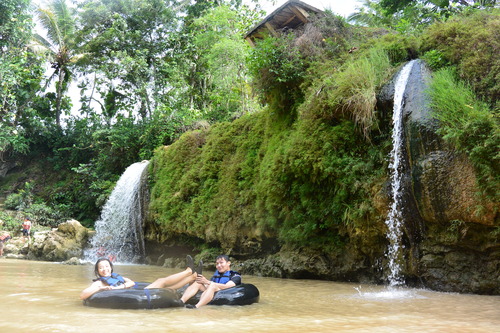 Love this shot too! The background is beautiful (and so is the girl in the foreground) :)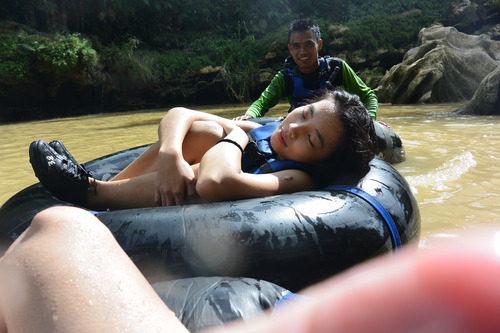 Sleeping beauty :P
We soon reached the end of the tubing "tour". There's a small shop near the end point, and we proceeded to get a cup of hot mocha, and some snacks.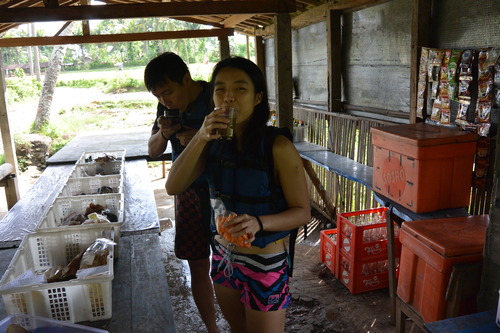 We then took the lorry for the ride back to Wirawisata :).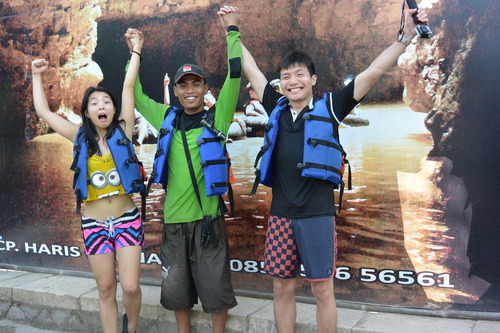 One more shot with our awesome guide, Thomas.
There were bathing facilities so we washed up, changed into a new set of clothes and it was time to leave for our next destination, the beaches. The day has been super fun so far, and we've no idea what to expect next. Going to the beaches was kind of an ad-hoc plan, you don't (or at least I don't) hear much about Yogyakarta's beaches, if at all. And we're in for a real treat. We reached some form of gate/gantry where we had to pay a token sum to enter (I think it was IDR 10,000). Once in, you had access to 11 beaches. Of course we did not visit all of them :P.
The first one we visited was Sepajang Beach. It was very quiet with only a few people. The waves were much larger than I had thought.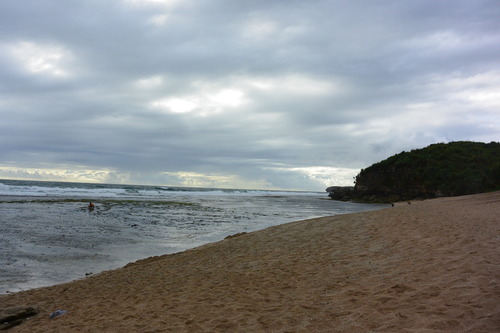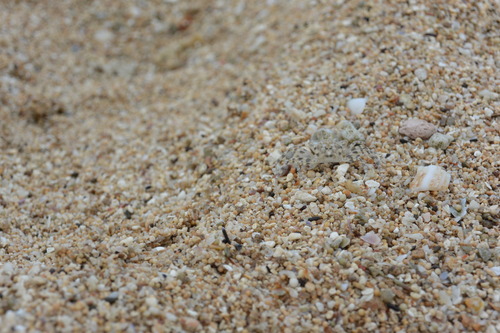 Lots of tiny camouflaged crabs in the sand!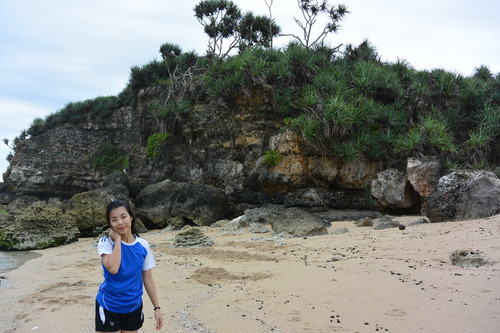 Love this shot of Sheryl!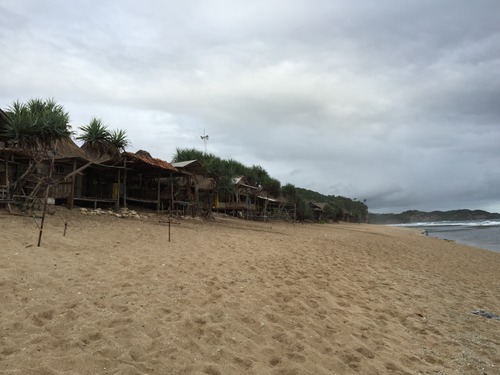 Lots of small huts that were selling food (I assume). Only a couple of them were open.
We then headed to Krakal Beach, which is a short drive away.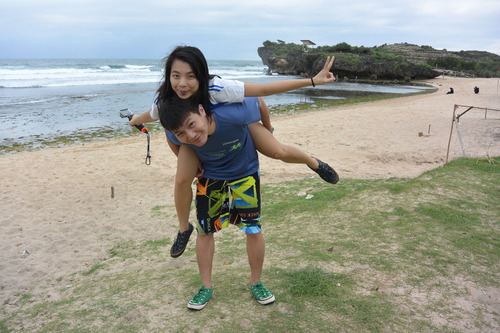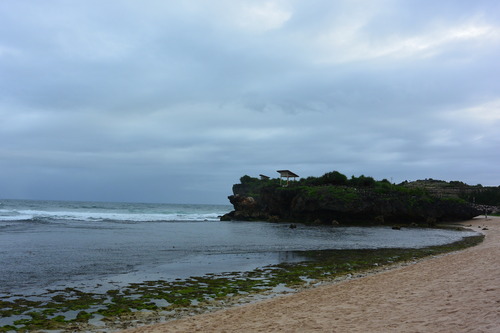 See the hut? That's where we're going to!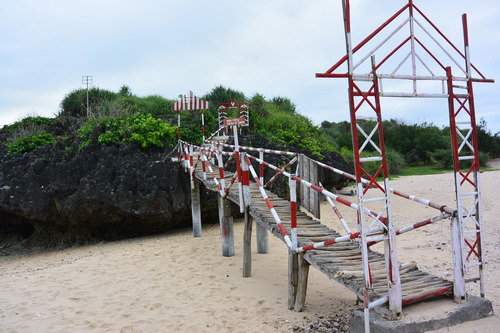 We had to walk up this very shaky wooden path.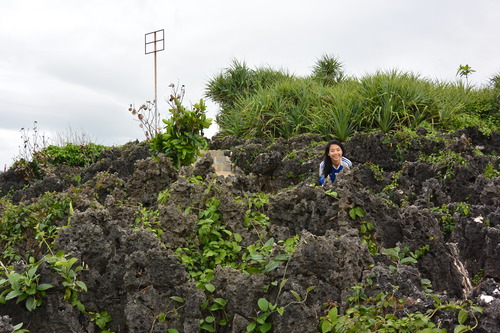 And we finally reached the top! The view from there is amazing! I don't think any of our pictures could do it justice. There was no one else around, and we really enjoyed the wind and the sound of the waves.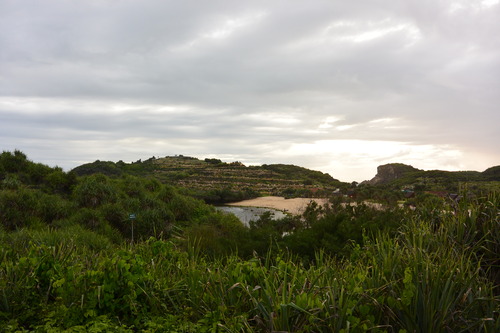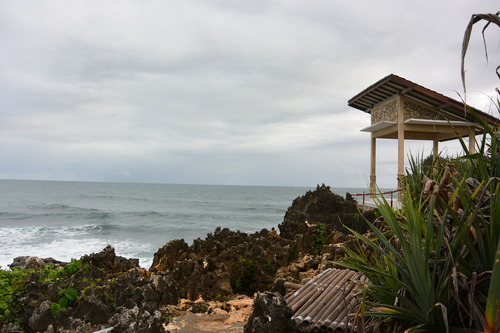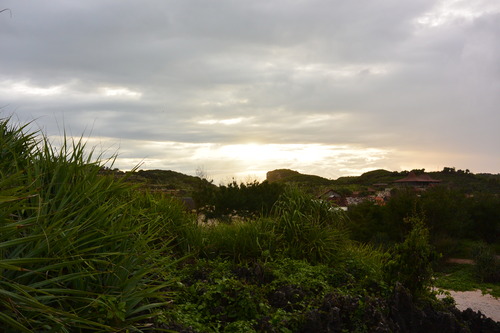 Sapto then took us to a place a short distance from Krakal Beach where we could capture shots of the sunset…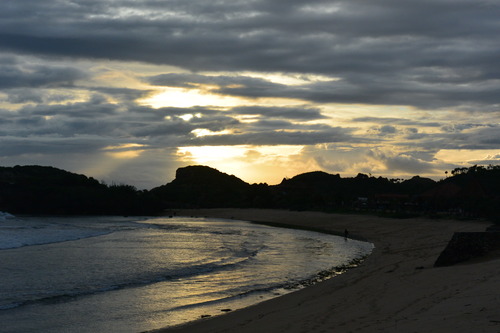 Sapto helped us to take this fun panorama shot :P. We tried like 20 times on our own but kept failing!
Finally, it was time to head to the last beach, Sundak Beach. I think Sapto actually took us to the beach just beside Sundak Beach, which was much quieter. I can't remember the name though. It's really quiet. I think there were 3 people other than us, and that's it. And the sun was still setting…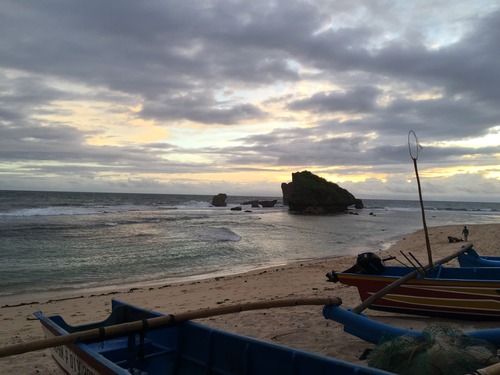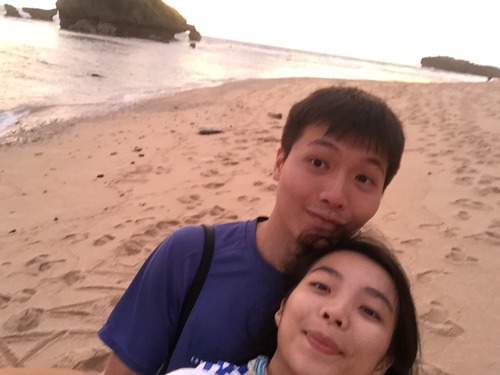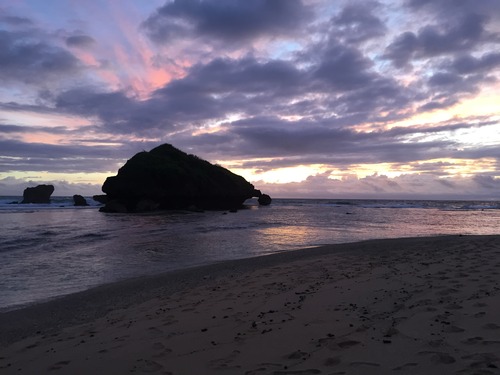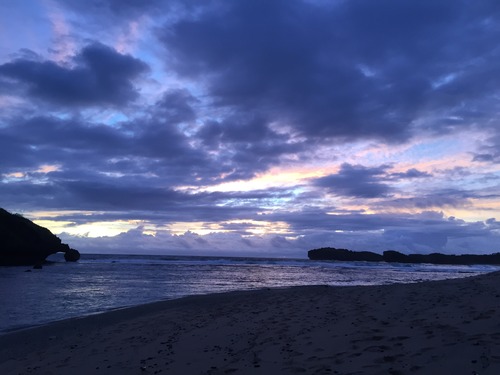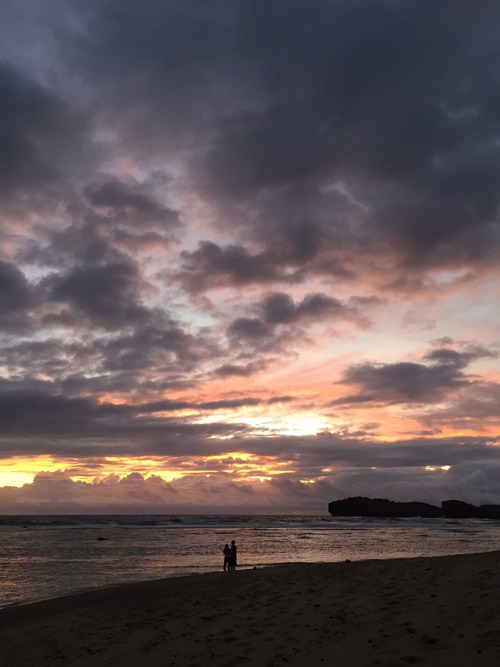 Let's just say that we were very pleasantly surprised by what we saw at these beaches. They were far beyond what I had expected! And they are relatively pristine, very few people, lots of tiny crabs, mosses are growing on the rocks… :)
It was time to head back. I think it was about 7.30pm by then, and it was really dark. The drive back to Hotel Tentrem took about 2 hours, so we fell asleep as our trusty Sapto drove us back :)
By the time we reached the hotel, we were famished. I had initially wanted to go for the Ayam Penyet again, but it was raining. In the end, we gave the Grand Duck King restaurant inside the hotel a try.
They've the best duck I've ever eaten in my life. Seriously. I normally don't even like having duck meat, but wow. I'll let the pictures speak for themselves!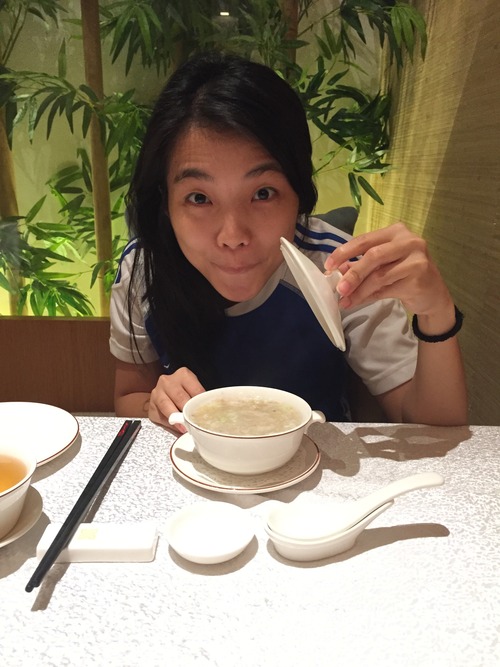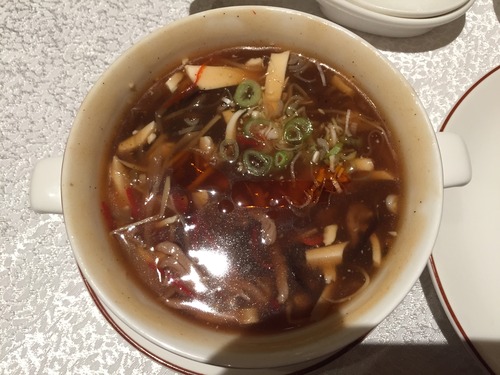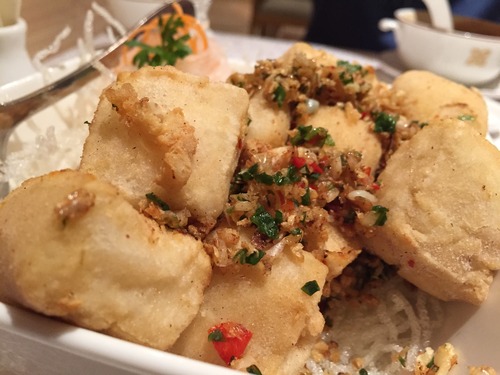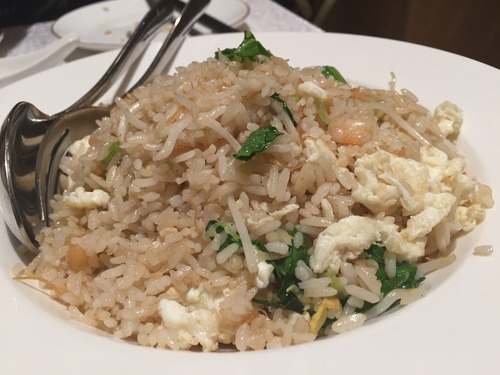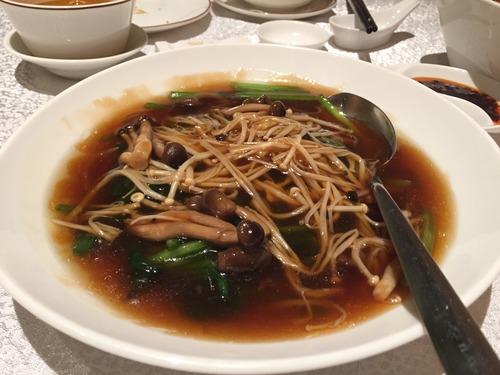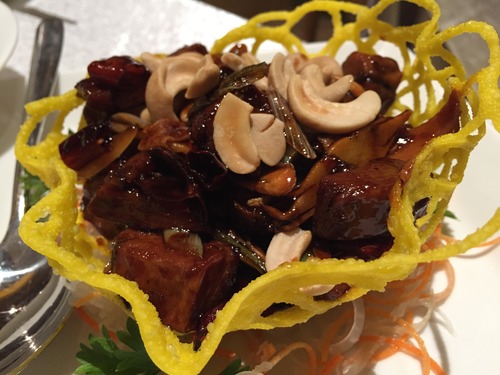 The amazing kung pao duck!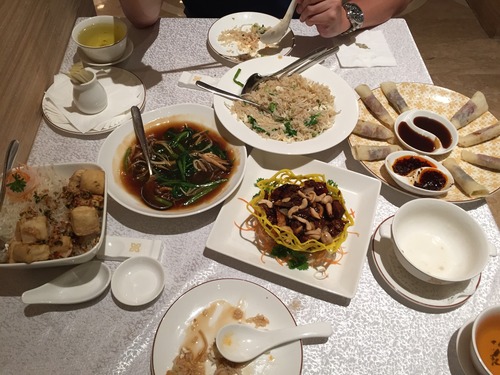 Probably too much food for two people :P
It wasn't just the duck, the rest of the dishes were very good too! After getting our stomachs filled, it was time to end the super fun-filled day. We had to wake up at 3am the next day to catch the sunrise near Mount Merapi! :)
Thanks for reading :)! Next part will be about our Mount Merapi Jeep Tour, and also the conclusion to this series.
Other parts in this series:
comments powered by

Disqus