So what drew us (or me, since I did the planning :P) to Yogyakarta? I'm not sure if it was Mount Merapi, the Prambanan Temple or Borobodur, or a combination of it all, but I was very drawn to the place from the images I'd seen. I contacted Reza from Indoparadiso with the itinerary I had in mind, a lot of which is also thanks to Indoparadiso's informative website, and he was able to accommodate to the dates and itinerary. Booked the hotel and the flights, and we've an adventure waiting for us!
Day 1 - Sambisari Temple, Plaosan Temple, Prambanan Temple
Our flight was scheduled to leave Singapore at 11.10am and arrive in Yogyakarta at 12.25pm, and we more or less arrived on time. Off to a good start! Upon arrival, we met our driver-guide (arranged by Reza), Sapto. We were lead to our really nice ride!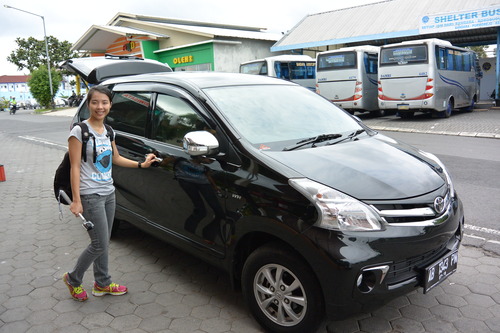 Sapto had kindly prepared an ice box with some bottles of water inside :P. Yogyakarta was really hot when we arrived, so this was a pleasant surprise!
Anyway, we started on our journey immediately, heading to the Sambisari Temple. _(Candi = Temple) _Entry to Sambisari Temple is usually by donation, but we didn't see anyone or a donation box around, so we visited for free :P!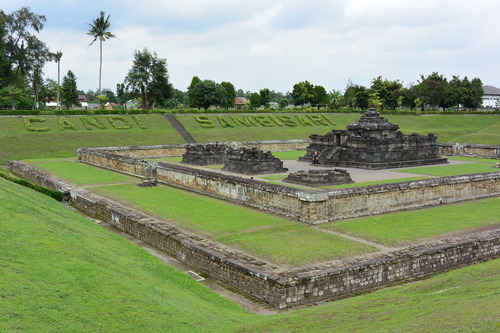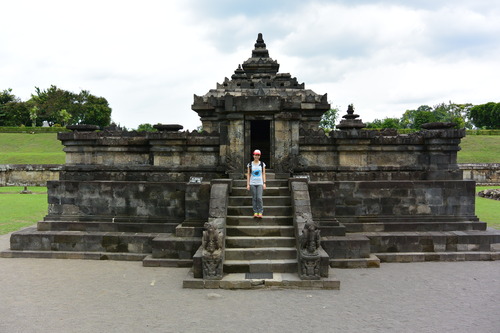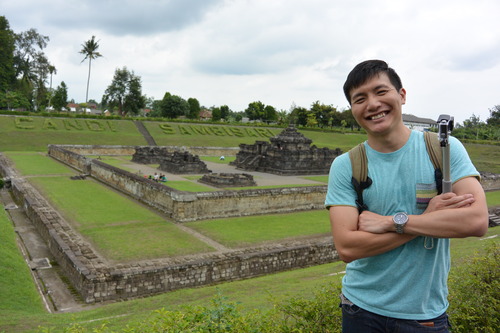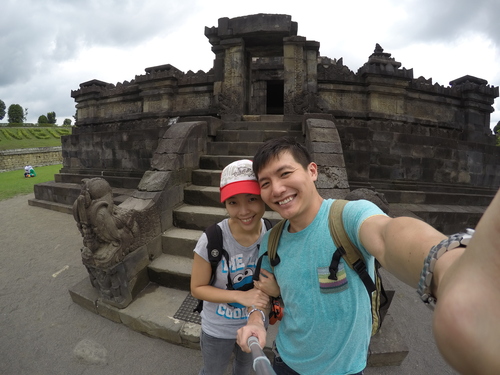 I must say what we've seen at Sambisari Temple (or any of the other temples for that matter in Yogyakarta) is very unlike any other temples we've seen elsewhere. They have a very ancient look to them (they are very old after all), and it's amazing to see them contrasted against the city.
Sapto then drove us to Plaosan Temple, which was a good surprise! It wasn't part of the original plan (it was supposed to be just Sambisari and Prambanan). Entry to Plaosan Temple is by donation :). We gave about IDR 20,000.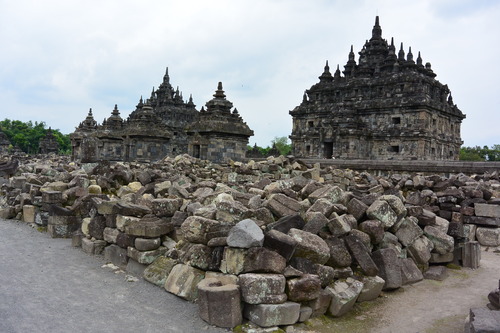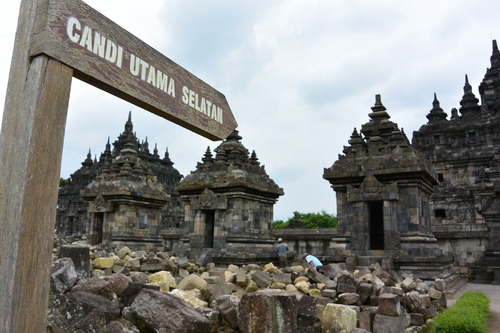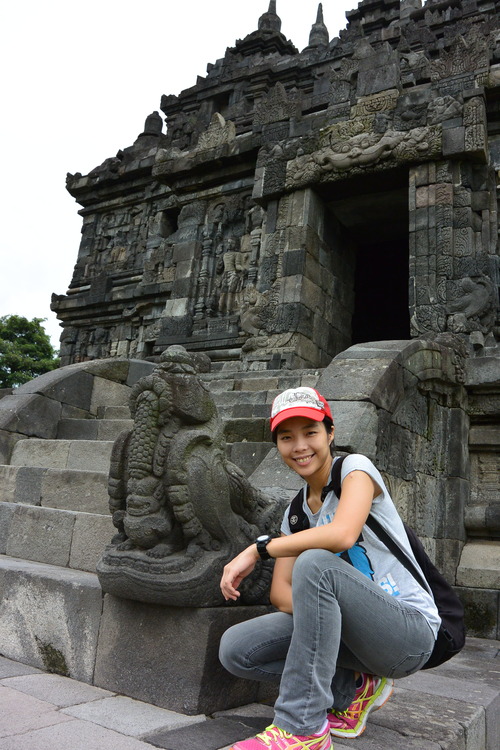 Sheryl looks like Ash from Pokemon :P.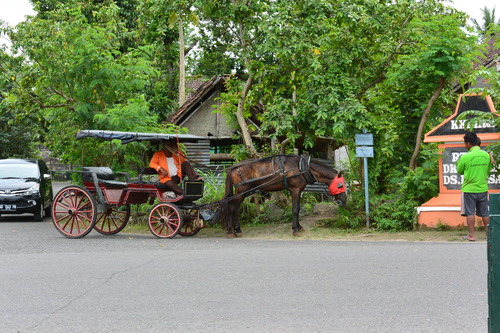 Quick shot we took before leaving Plaosan Temple
Plaosan Temple was quite an amazing place to be at. It's significantly larger than Sambisari Temple, and seeing the ruins with the temples in the background feels strangely serene. There were also very few people around, so it felt very quiet and peaceful and a little bit creepy, all at the same time!
Next, we headed to Prambanan Temple, and even from afar, it was quite a sight to behold. I believe this is the largest Hindu temple within the region. Do note that Prambanan Temple costs about IDR 216,000 for tourists (locals get half the price). It is pricey compared to most of the other places, and you can see a lot of people complaining about this online, but it's well worth the money. I personally don't see any issue with the company charging more for tourists and less for locals.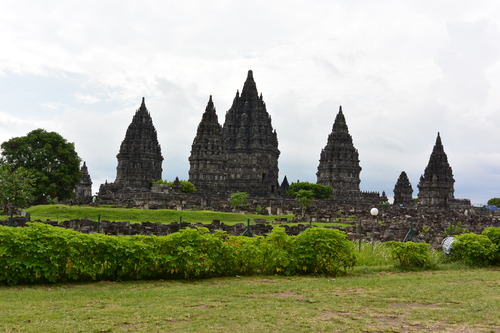 Prambanan Temple from a distance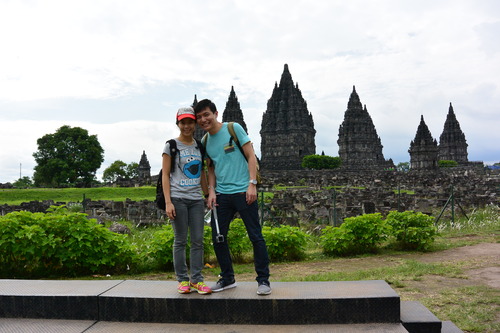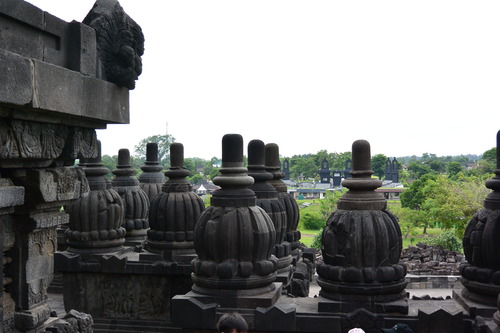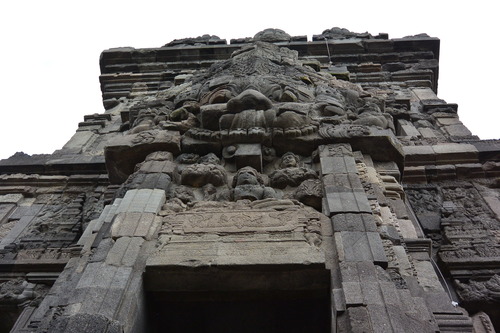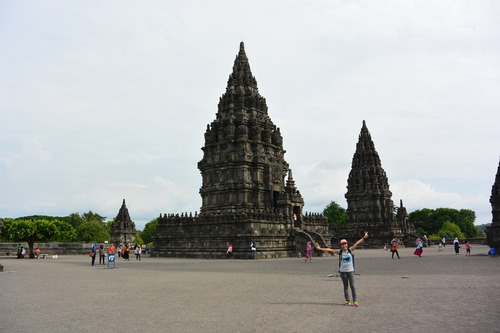 You can see the vastness of this place :)!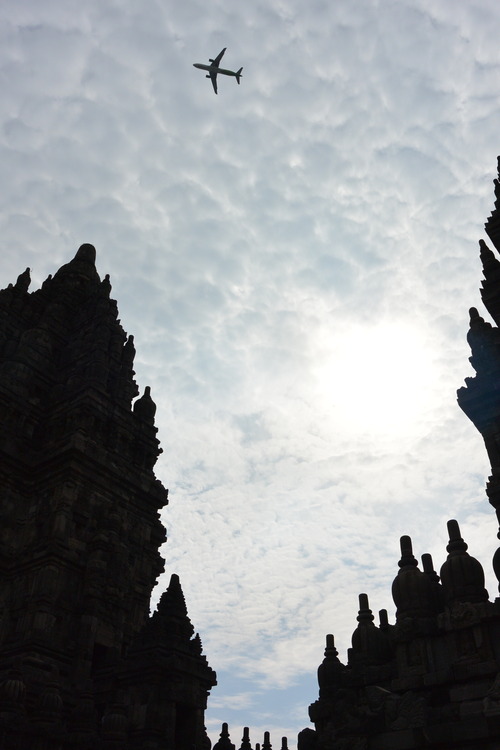 Sheryl took this beautiful (IMHO) shot! <3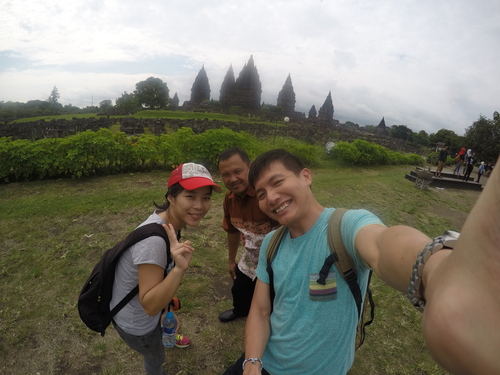 Sapto joins us in this!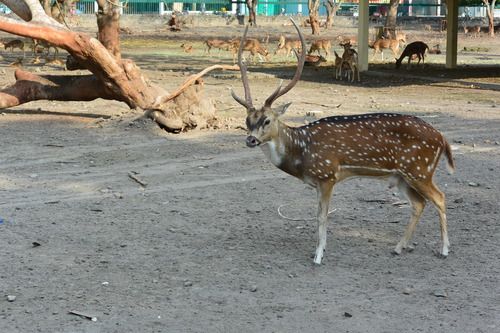 There's a park around the Prambanan Temple, and somewhere there is an enclosure with deers!
After the visit to the temple, Sapto took us to the shopping area around Prambanan. We had a good time shopping there! The souvenirs cost us about $0.10 SGD each (IDR 1,000), and the local snacks were around IDR 10,000 (just over $1 SGD) per pack. Sapto helped us to haggle a little too, and I'm pretty sure having a local presence helped bring the prices down :D.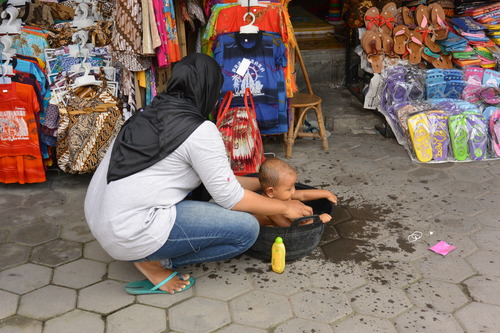 I also ate Salak (snake fruit) for the first time in my life. I'm not adventurous when it comes to food at all, although that is slowly changing as Sheryl keeps making me eat :P.
It was finally time to head to the hotel! I tend to be very sleepy after a flight, so I was glad to finally have a chance to rest. We stayed at Hotel Tentrem Yogyakarta for our trip, and we are super glad we did! It's probably one of the best hotels I've ever stayed in.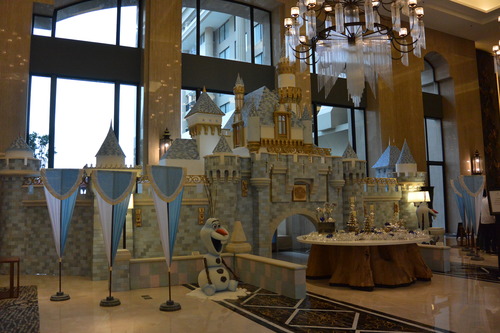 Hotel Tentrem had some Frozen thing going on…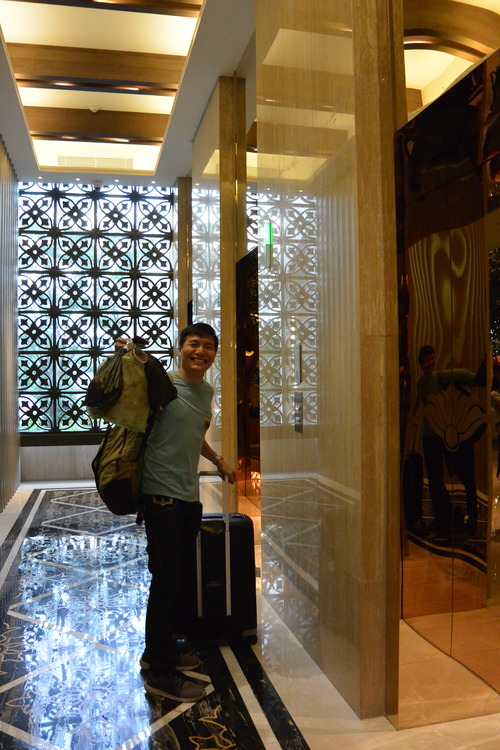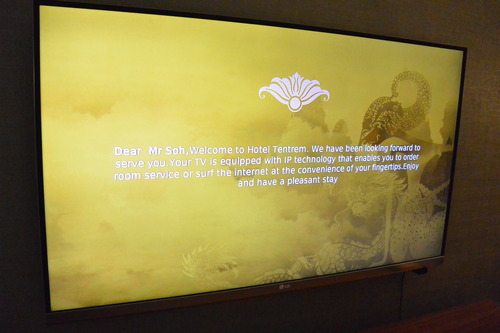 Hotel Tentrem is really superb. The minibar is free, there's wifi, and the breakfast (more on that in a later post) is AMAZING. And there's a bench in the lift!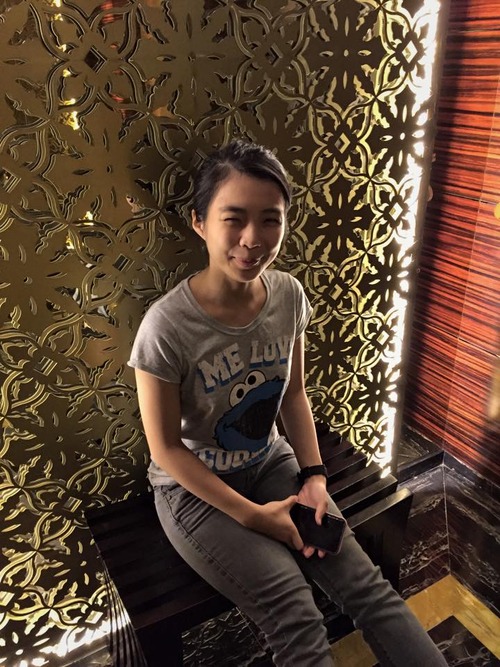 Sheryl is clearly pleased that there's a bench in the lift.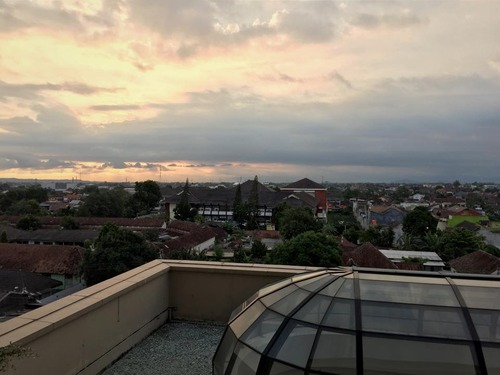 View from the room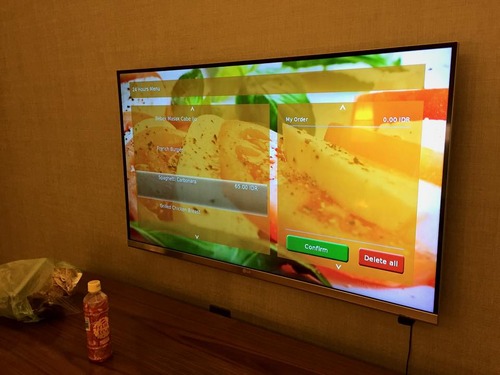 Screw the phone! Order dinner right from the TV!
Anyway, for dinner, we decided to leave in-room dining for another day, and headed out to the nearby Ayam Penyet Suroboyo (about 10 min walk) for dinner. It's superb. I think it's the best Ayam Penyet I've ever had, my regret is that I only ate it once :(.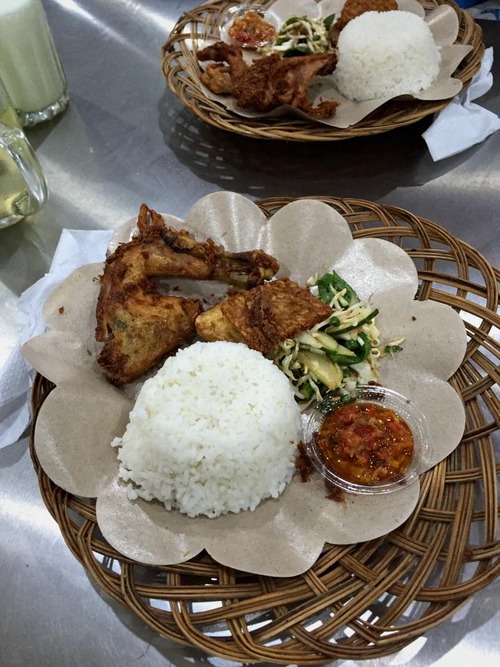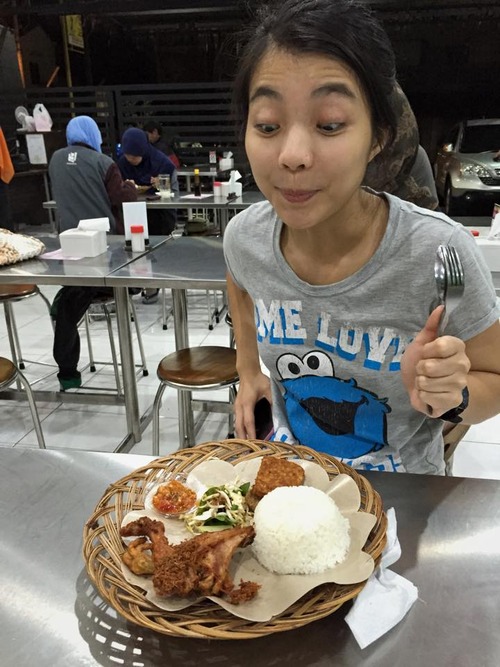 That about concludes our first day! We had to wake up at 3am the next day since we wanted to catch the sunrise, but only went to sleep around 11pm. Not very smart of us :P. More to come in the next post, thanks for reading so far :)!
Update: I had forgotten to mention earlier that during our 5-day trip in Yogyakarta, we went for 3 massages in Hotel Tentrem. And the first night was one of them! After our Ayam Penyet dinner, we went back to the hotel and rested for about an hour, and then went for some pretty amazing massage! Sheryl had a "singing bowl" massage while I had a cupping massage :P.
Other parts in this series:
comments powered by

Disqus