After an exciting and somewhat tiring first day, we had to be ready by 3.45am for Day 2. Clever planning on my part :P. We woke up around 2.45am, prepared, ate some bread that we bought at a nearby bakery the day before, and met Sapto!
This is the most packed day in our trip, as we ended up visiting the following places:
Setumbu Hill Sunrise
Borobodur
Kopi Luwak
Mendut Temple
Mendut Buddhist Monastery
Sultan Palace
Water Palace
Silver Factory
Malioboro
Shirt Factory
Italics = Not on the original itinerary
We were super excited about catching the sunrise from Setumbu Hill! Halfway through the drive to Setumbu Hill, it started raining heavily :(. Nonetheless, we still kept our hopes up, perhaps we will still see the sunrise.
I had packed some ponchos in my backpack, but Sapto had also prepared some ponchos for us, so we used the ones he brought :P. Sapto also gave us an umbrella! Sheryl and I then started hiking up a short trail after paying a small fee (IDR 30,000 per person)…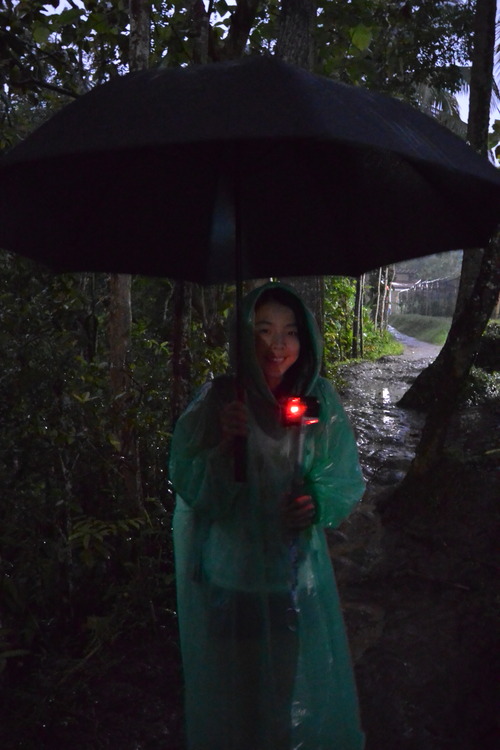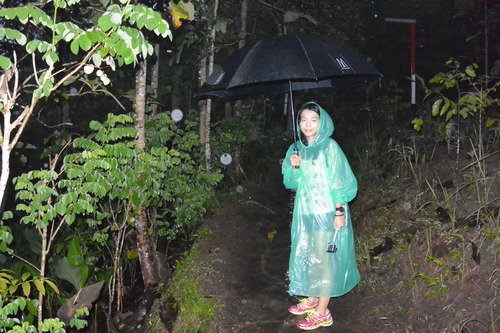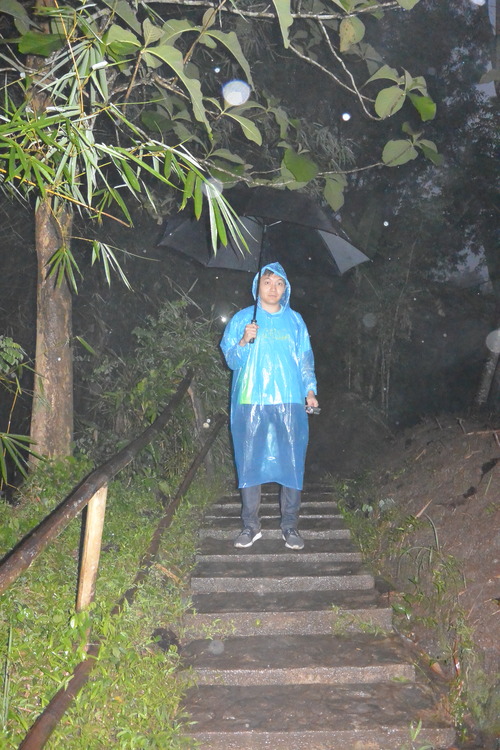 It started getting brighter as we hiked up, but we could not see any sunrise. Nonetheless, we headed towards the viewpoint (still trying to be hopeful). Finally, we arrived!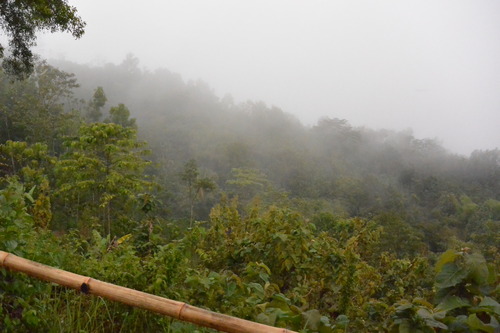 Nope, no sunrise to be seen :(! Since we were already at the place, we took some photos…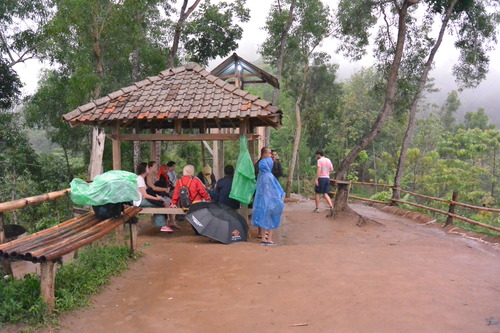 Lots of other folks who also missed the sunrise :(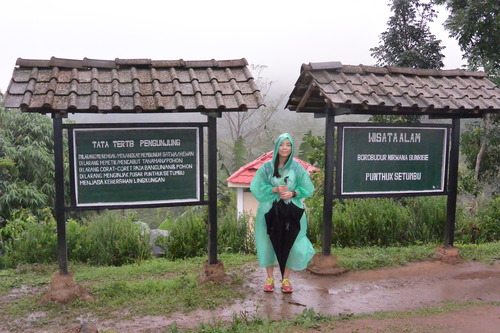 Sheryl looking somewhat knightly :P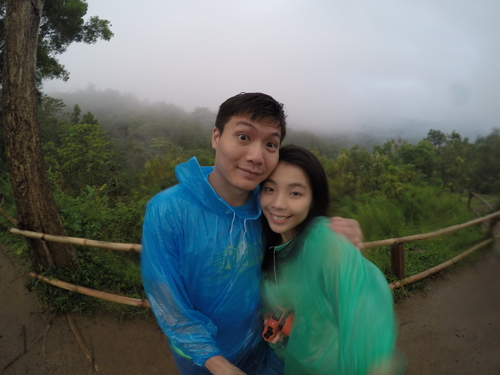 Customary GoPro wefie
We then disappointedly hiked down, and made our way back to drive. The next destination: Borobodur! We were actually the first visitors there, and the place wasn't even open.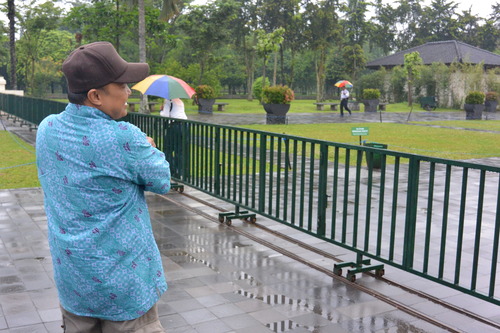 See the person carrying the umbrella in the midground? She's opening up the gates!
Entry to Borobodur costs IDR 240,000 per person. Upon collection of the tickets, there are some welcome drinks (tea and coffee) which you can help yourself to, before entering the main area. A guide approached us once we entered, and we decided to give it a shot since we haven't tried any guided tour so far. The cost of the guide is IDR 100,000.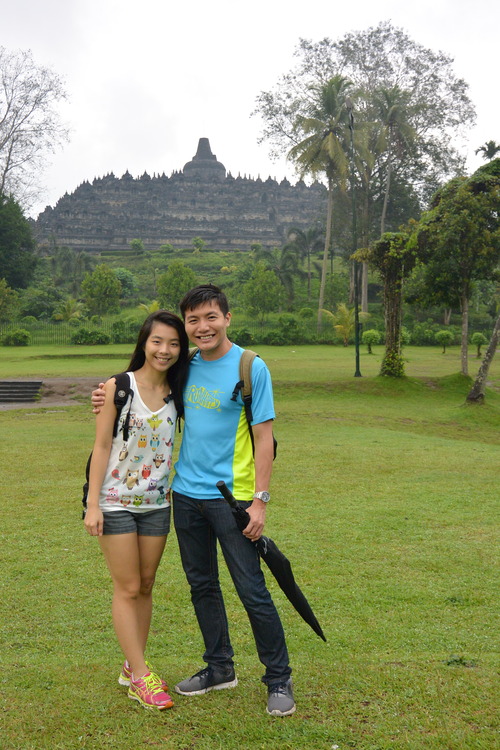 The guide (I can't remember the name :() was very thorough in his explanations of Borobodur, and we felt that it made a difference to our visit. He explained the history behind Borobodur, the stories on the stone carvings, and provided a lot of details on just about everything. Learning about Buddhism was great, and something I hadn't expected to do for this trip, so I really enjoyed the tour. For example, we learnt that the steps on Borobodur are high so that you have to lean forward and bend down slightly when you're going up the stairs. It's a form of respect and humility.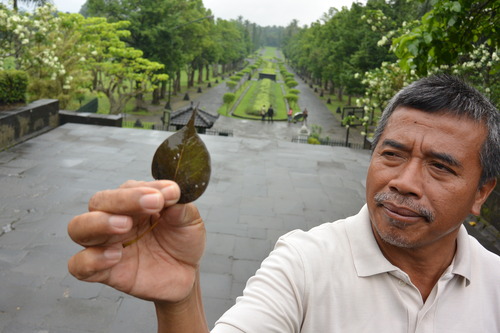 The guide showing us a leaf from a Bodhi tree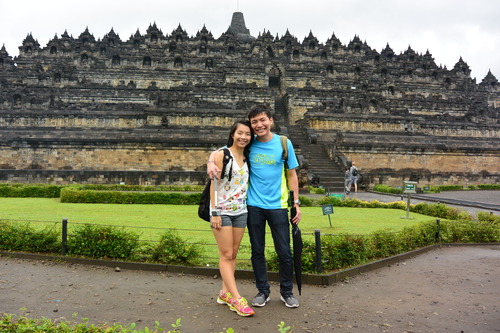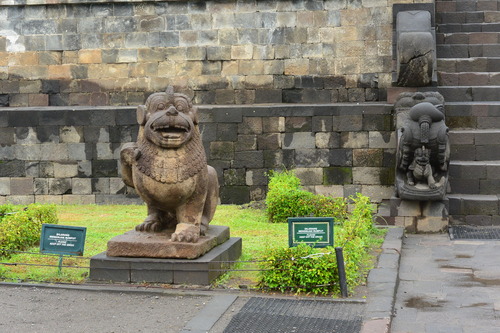 That's a "happy lion" according to the guide. It does look very happy and welcoming!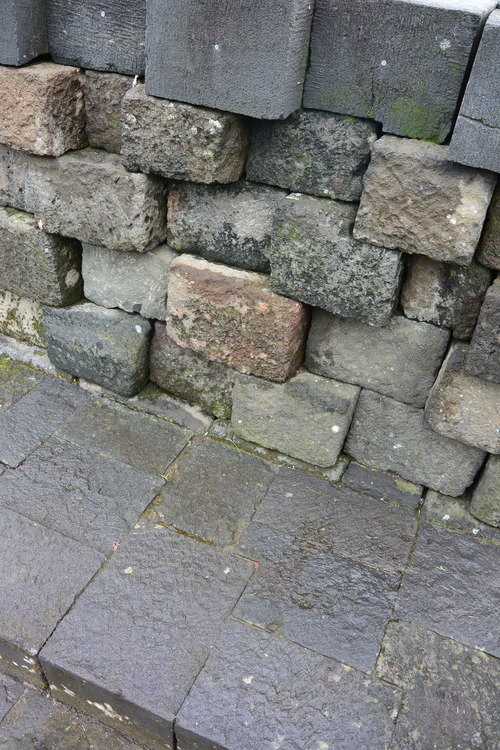 The entire Borobodur is stacked and locked together. Originally there were no cement used, but some parts of it are now reinforced with cement.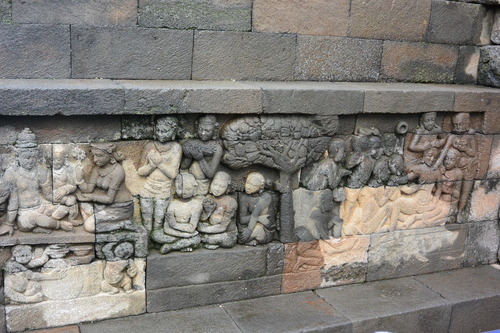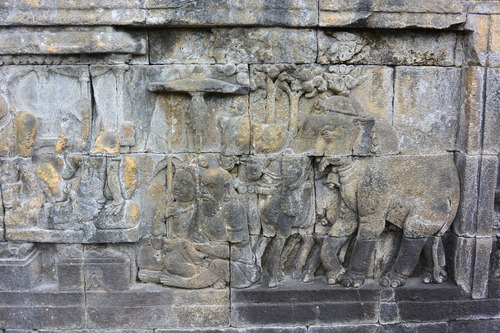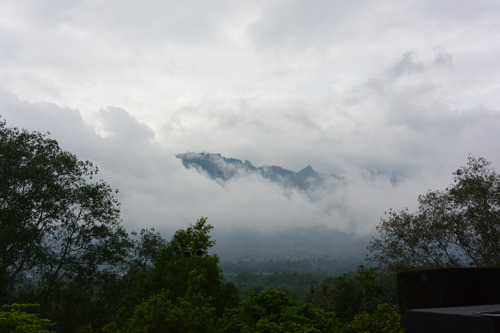 View from Borobodur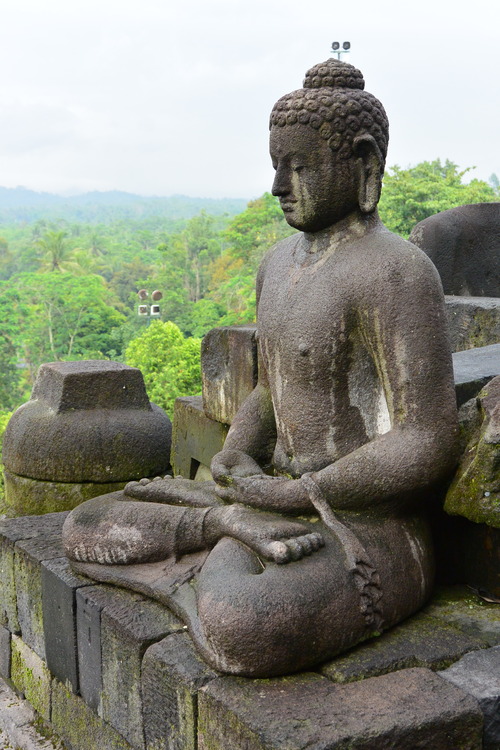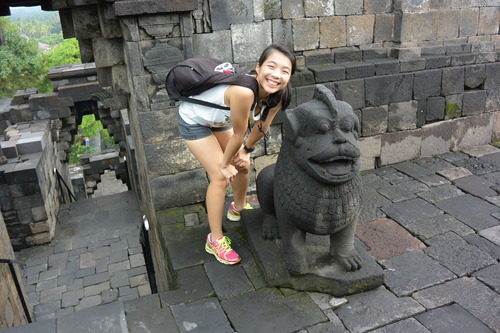 Hehe <3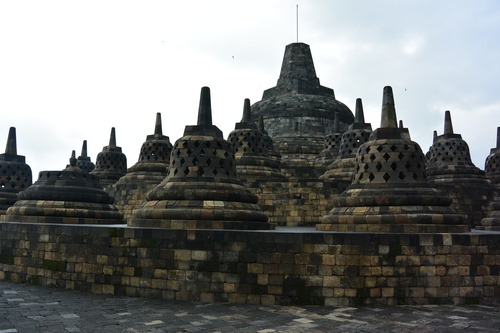 It's feels especially peaceful at this part of Borobodur.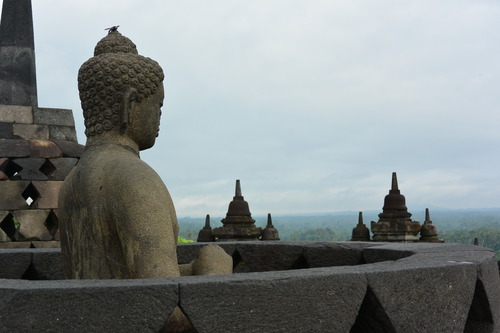 See the bug on top of the Buddha? It keeps flying away, only to return to the same spot. The guide tells us the bug has been there for a while now.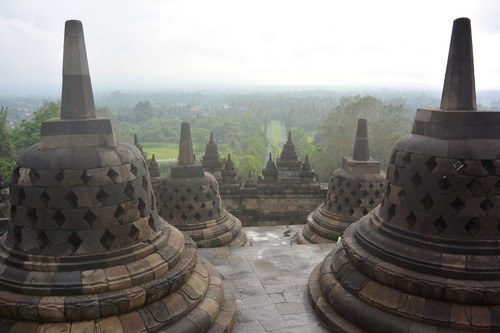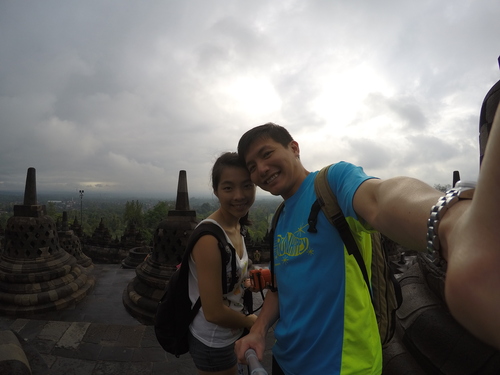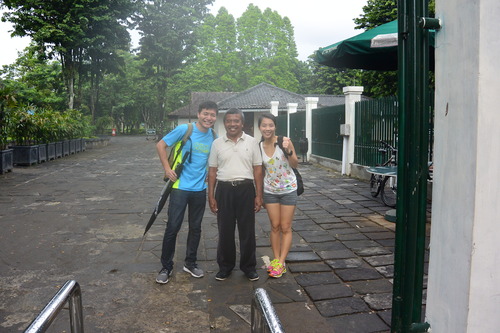 A shot with our guide :)
We then grabbed a quick bite at one of the food stalls around Borobodur, and headed to a Kopi Luwak cafe for some coffee! This was an unplanned trip and Sapto took us there just because he's that awesome!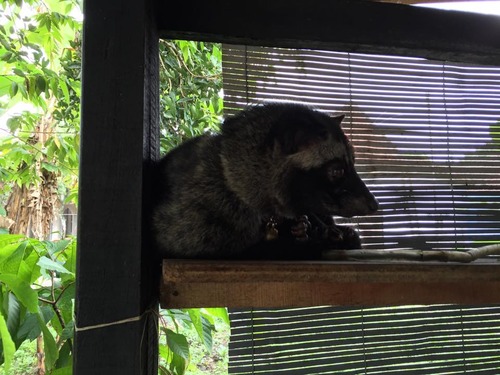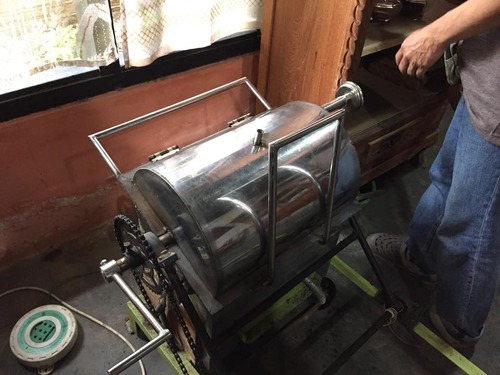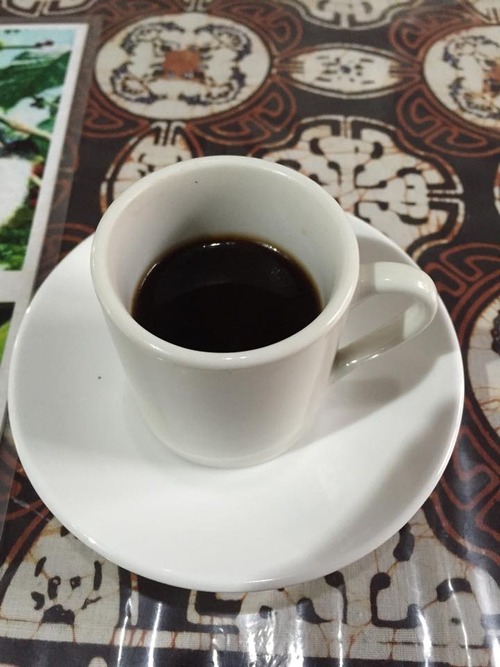 We then headed to the Mendut Temple. The entry fee is IDR 3,500 (about SGD 0.50). We initially wanted to just snap some photos from the outside as we have visited quite a number of temples by now and they were beginning to look the same, but decided to visit anyway, and we're glad we did :)!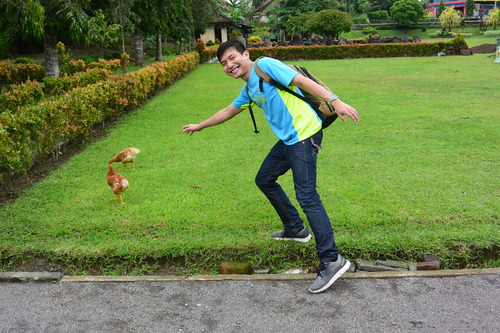 There were chickens and chicks everywhere in the temple compound!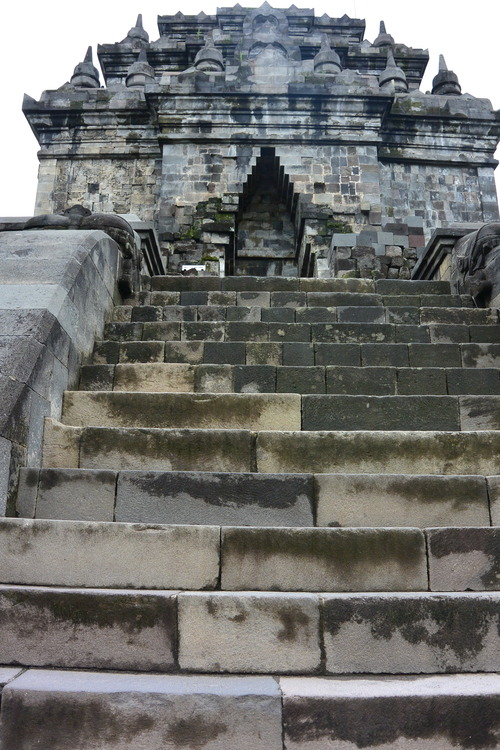 Stairs up to the main chamber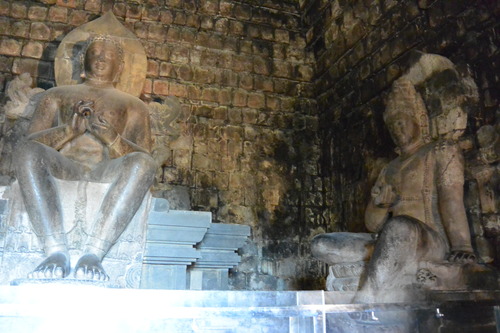 Inside the main chamber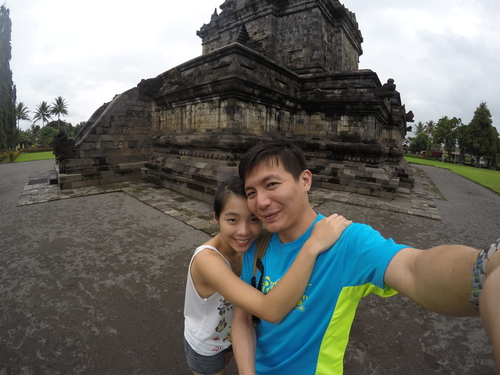 Mendut Temple was quite amazing in it's own right. Although it's not a large complex like Prambanan, nor is it as large as Borobodur, it's still very beautifully constructed. We were also very surprised to see the statues in the main chamber still intact. During our Borobodur tour, the guide had told us that many of the statues, carvings were destroyed because they were stolen. That's why a lot of the statues have no heads :(.
Sapto then took us to the nearby Mendut Buddhist Monastery. It was another unplanned trip, and Sapto acted as a guide for us as well, showing us around the various parts of the monastery. It was very, very peaceful walking inside.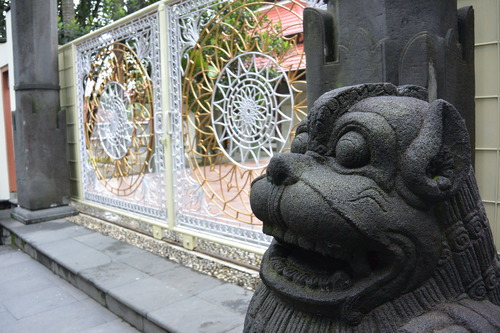 Happy lion at the entrance of the monastery!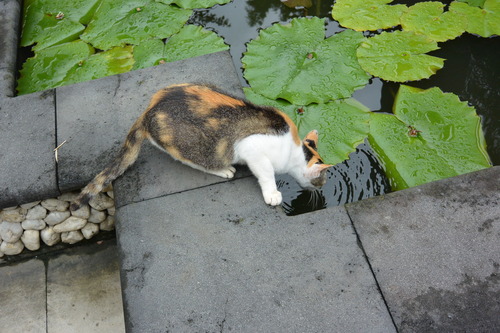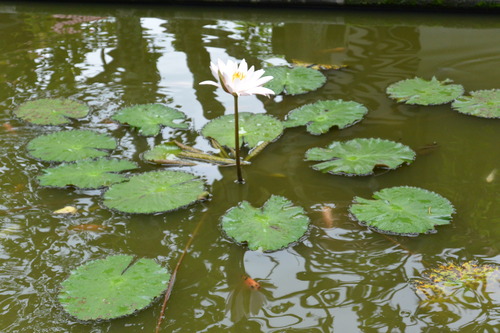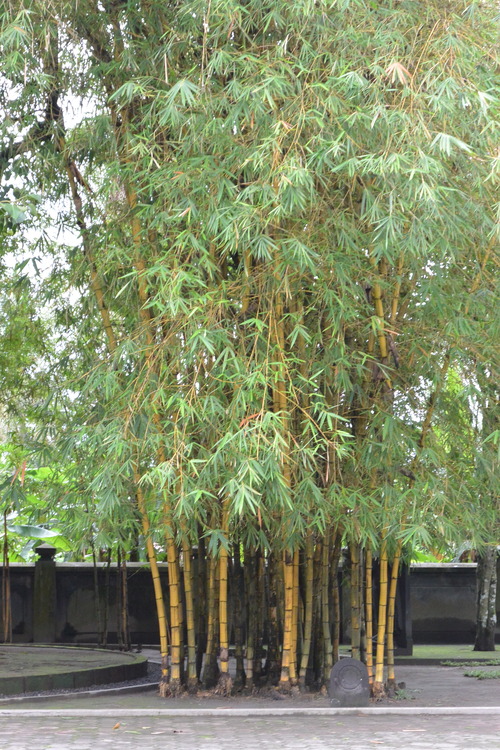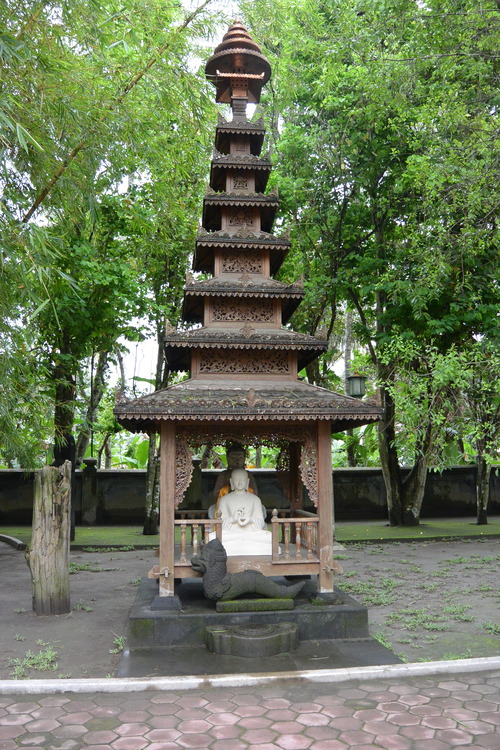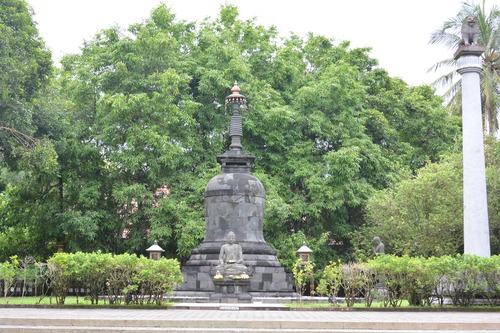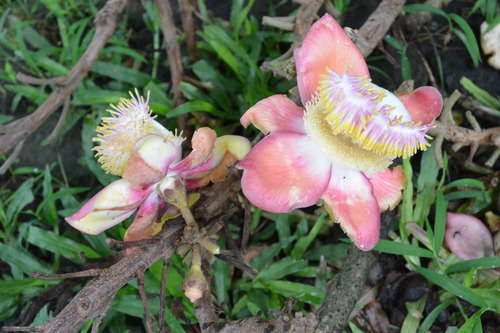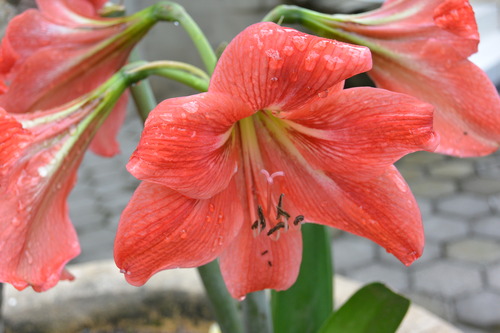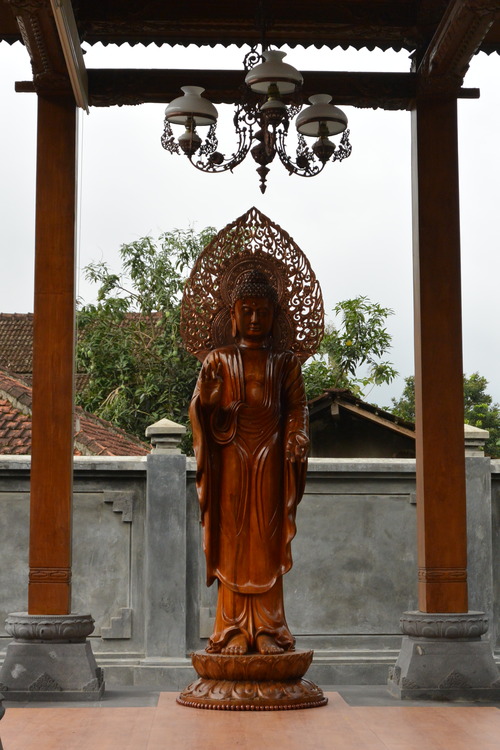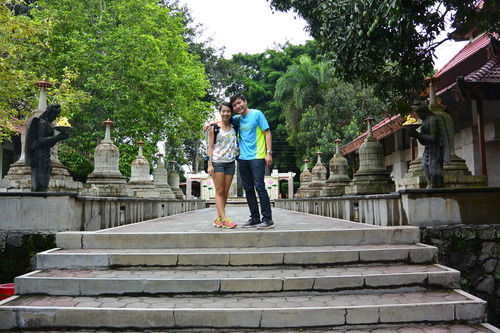 At one of the exits of the monastery, we saw two cows. We took some photos with the cows but I realized that it was weird. Firstly, the cows were tied up :(. Secondly, it's right outside a monastery. I'm not sure what will happen to these cows but I suspect it's for slaughter :(.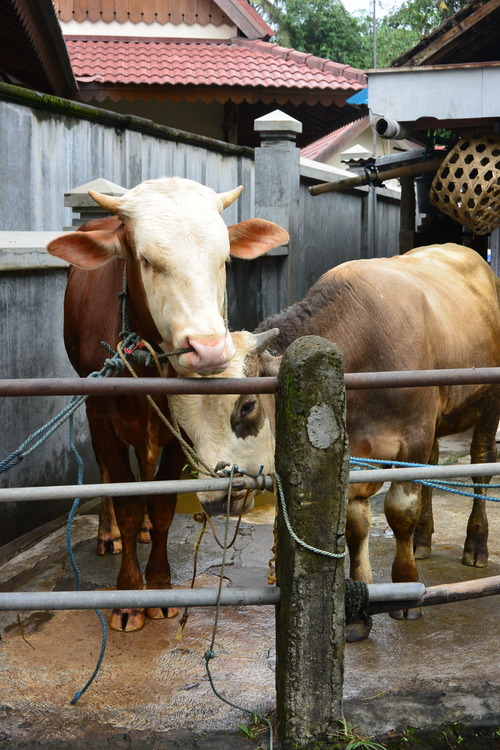 We also saw a really huge millipede on the way out of the monastery!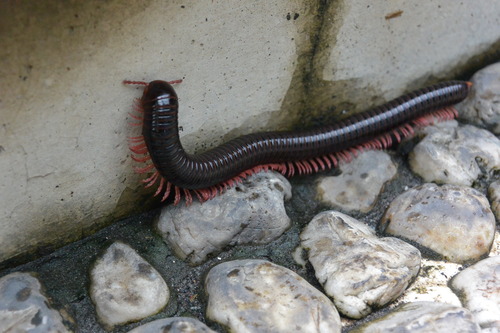 It's fatter than my thumb!
There was so much to see at the Mendut Buddhist Monastery. More importantly, I felt a sense of peace as I walked around the compounds :).
Next up was the Sultan Palace, and the Water Palace. It was around 11.30am by then and we were starting to feel sleepy from waking up at 2.45am :(.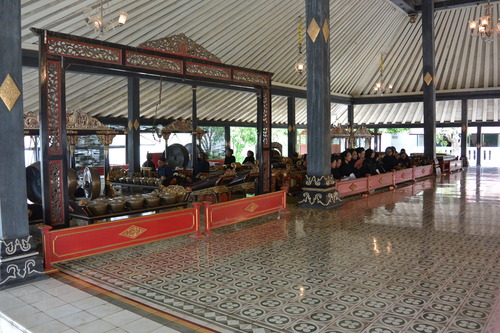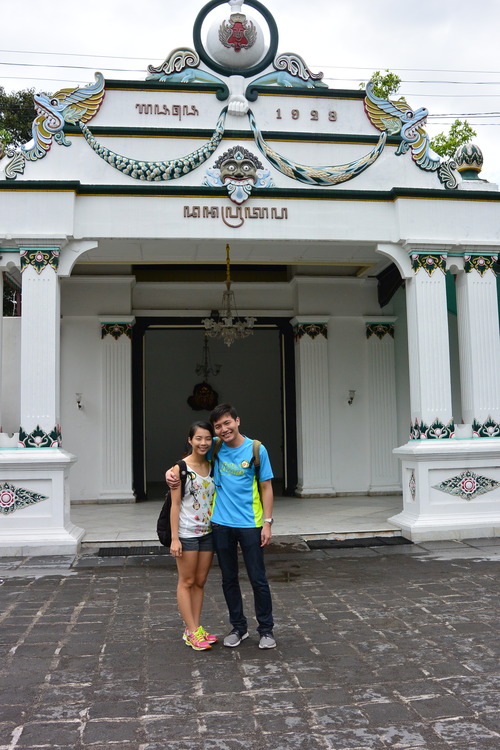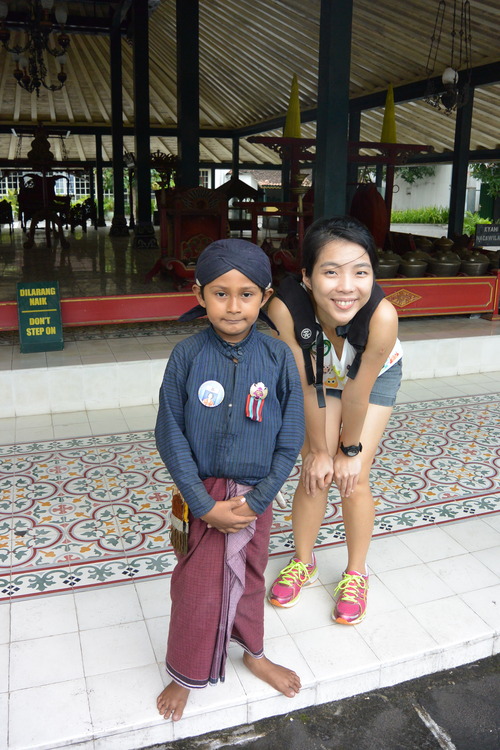 There were a lot of museums within the Sultan Palace with lots of things on display, and it was interesting to read about them.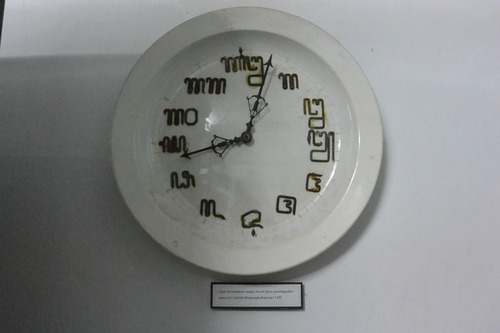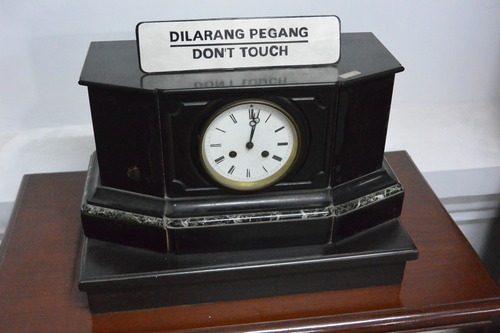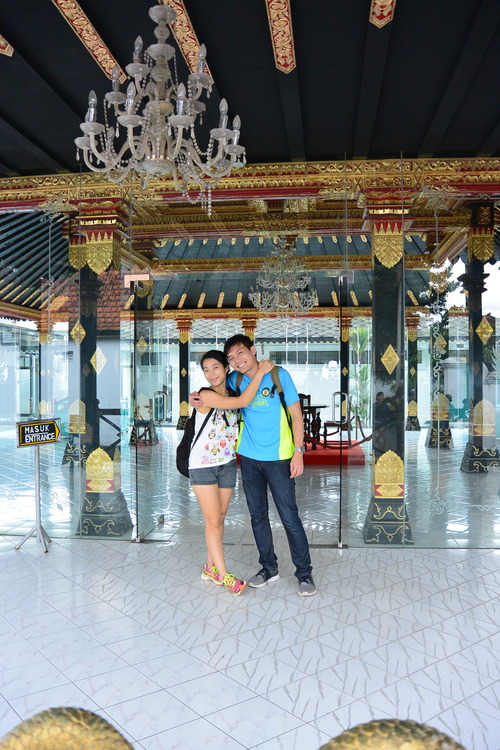 And then the Water Palace which was a short drive away…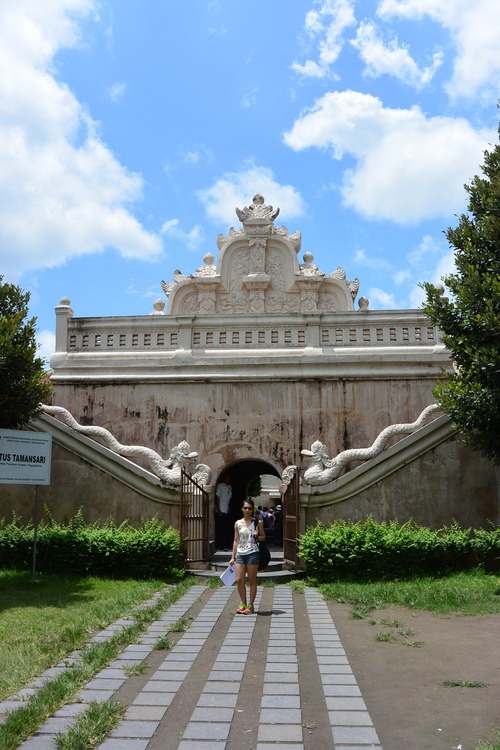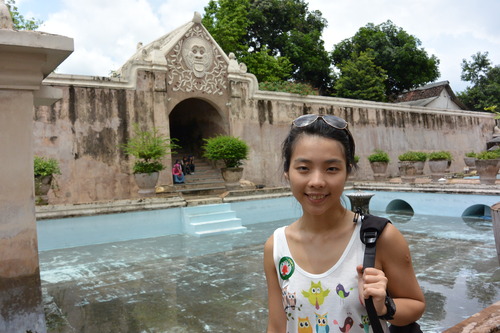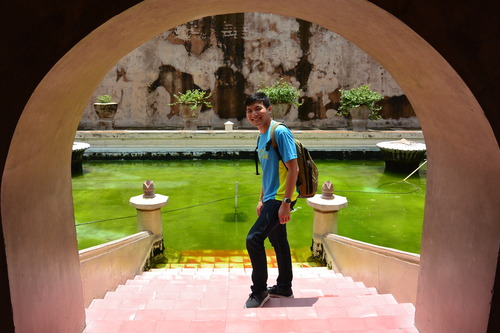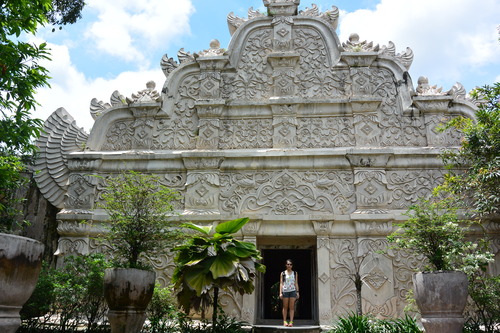 Just as we were about to leave the Water Palace, a guide approached us and started telling us a lot about the place. We were skeptical initially and we were quite tired and didn't really want to stay around much longer nor tip him (since we didn't want any guide/tour in the first place). However, he was very sincere and knowledgeable, and since we were nearing the end of our plans for the day, we went ahead with it and we learnt a lot!
He took us to a Batik shop (there are a lot of shops within the Water Palace), and gave us an overview of how it works. Some of the art pieces look more brilliant when there is a light source behind, and some when there is a light source in front. Below is one of our favourite ones: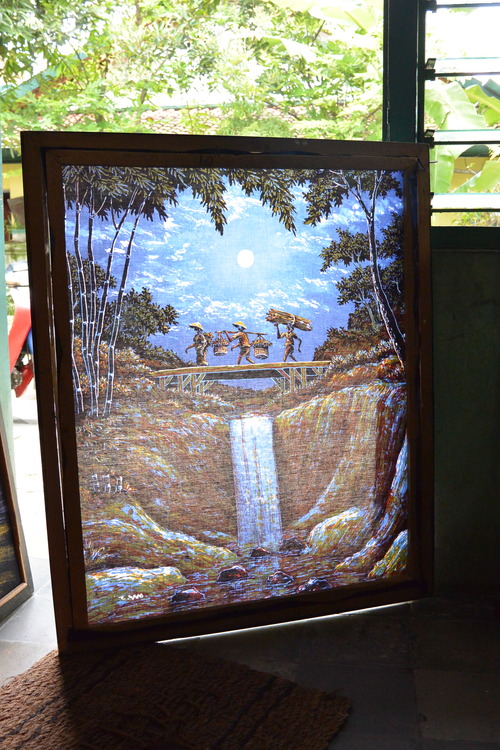 Next up, we headed for lunch :P. We were very, very hungry by this time! The food was awesome! However, the drinks that we ordered tasted quite weird, with jackfruit, ginger, all in the mix.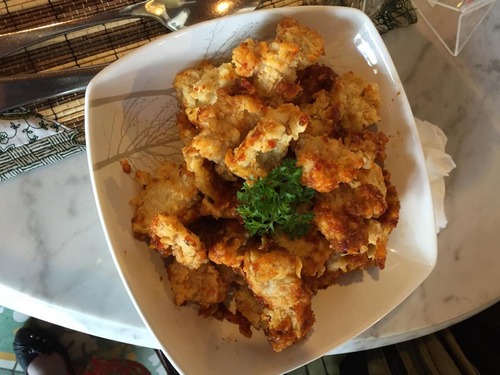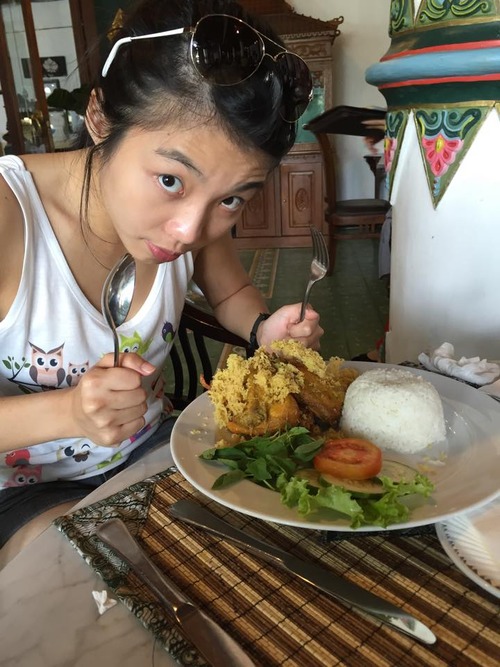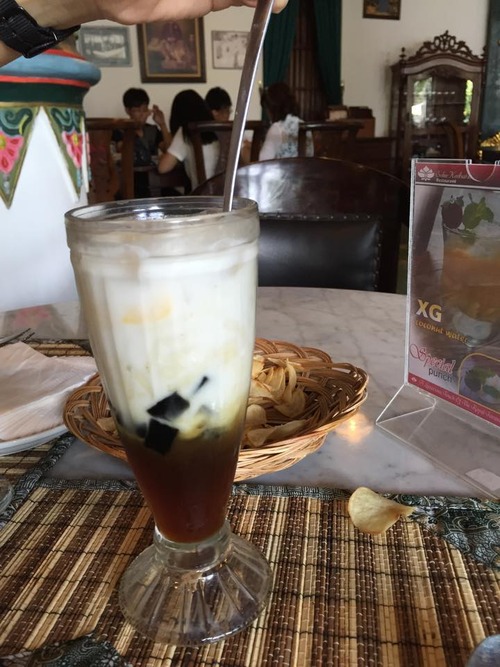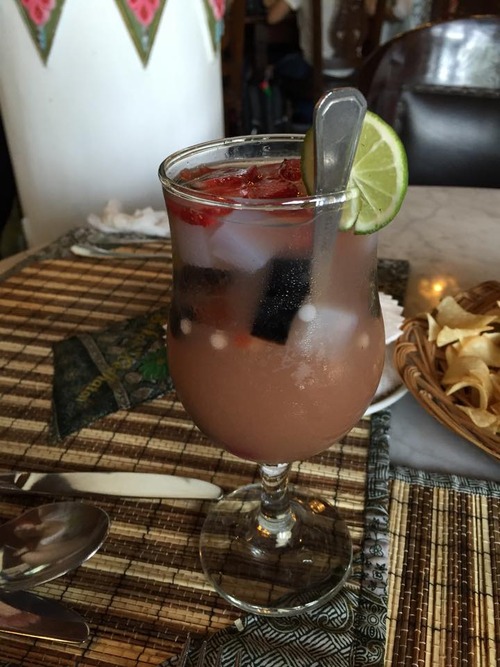 We then headed to a nearby store selling silver jewellery for a quick look (didn't buy anything), before Sapto took us to Malioboro, which is the main shopping street. We were very tired by this time and spend about 15 minutes in the place, where we bought some t-shirts. I think the place is much nicer at night from what I've seen online. In the afternoon almost all of the stores were selling clothes, and there wasn't a lot of variety.
Sapto also took us to a t-shirt factory owned by a personal friend of his, where we got a walkthrough and see how they made t-shirts. It was quite interesting as they're still printing the designs manually. We bought a couple of t-shirts from there as well.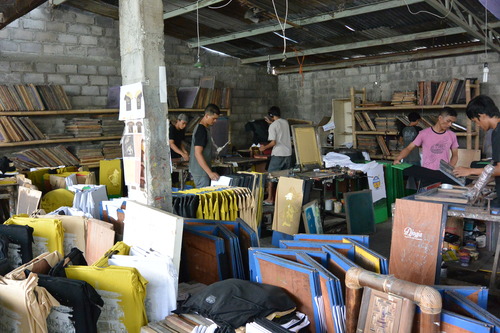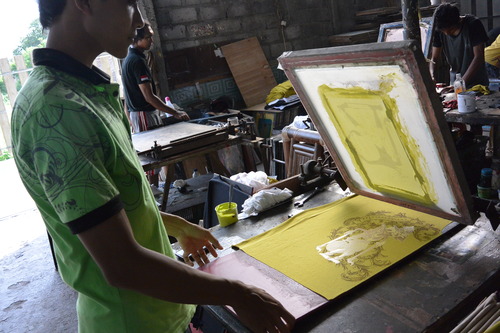 We headed back to the hotel after this. I think it was around 4pm when we arrived. It was a very long and tiring day, but we had a great time! The initial plan was to take a nap, go for a swim, go for dinner, and finally end the day with a massage.
Unfortunately, due to the amazing selection of channels in the hotel, we ended up watching some movies (I think we watched Independence Day as well) instead of napping. We still went for a swim, and it's a nice pool with a great view!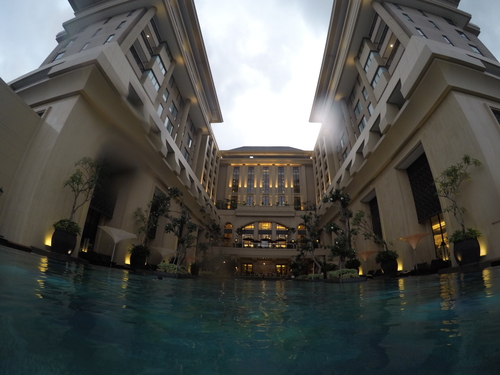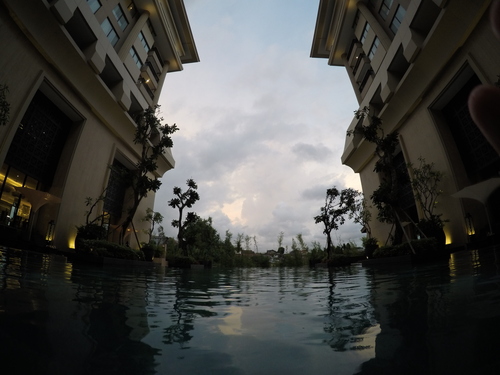 After the swim was dinner time :P. One of the hotel's staff, Sandy, was very friendly and engaging and we had a lovely conversation throughout dinner :). Hotel Tentrem is really that good ;).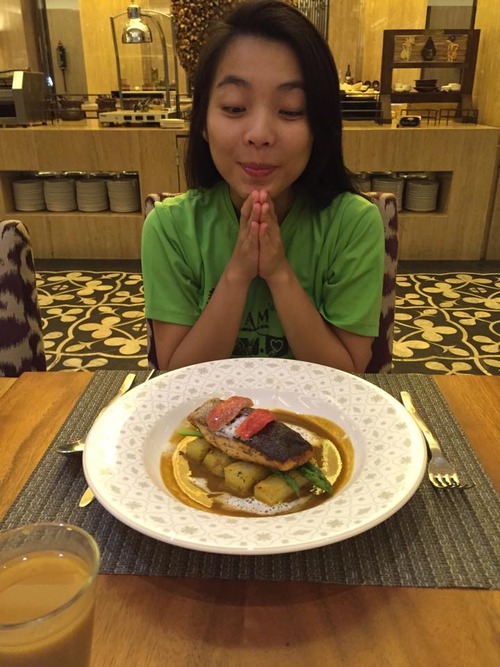 See the greedy face!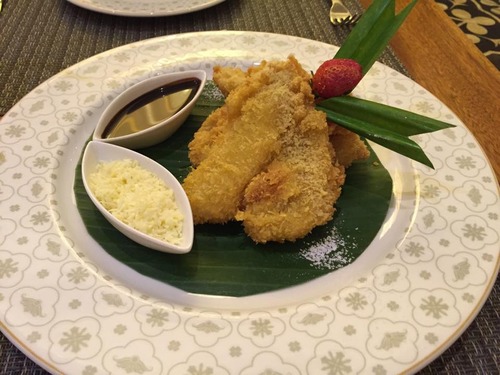 Very tasty goreng pisang with cheese and chocolate :)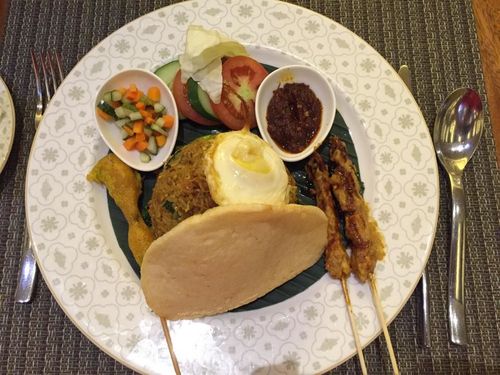 After dinner, we went back to the room and rested some more, before heading for our Hot Stone Massage at 9pm :P! A well-deserved massage after an activity-filled day!
Thanks for reading! Day 3 will be written in another post!
Other parts in this series:
comments powered by

Disqus