Sheryl and I have been talking about cycling at Punggol for a couple of weeks, but plans being plans… We don't always stick to it :P. Also, the one time where we made up our mind to do it, it started raining. Anyway, after probably 2 weeks, we finally decided to try cycling at Punggol on December 28, 2014 (I've an obsession with dates so I find it necessary to include it). I Googled "cycling at punggol" and there were a couple of results, but I think the best article (other than the one you're reading right now :X) is the one by Sqkii here.
That article gave a good overview of what to do and see while cycling. However, we were completely lost as to where to drive to, and where to park. Nonetheless, we used Google Maps and simply headed to Punggol End. On the way there, it started drizzling again :(! Fortunately, the skies were clear in Punggol :D.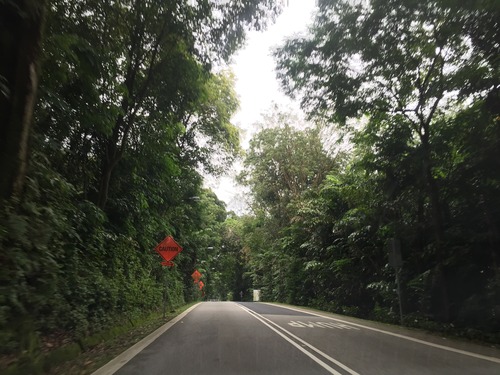 Arriving soon!
Once there, we found a huge parking space and lots of food. Turns out, there's a name for that place, it's called The Punggol Settlement. Heck, they even have a website here. Yes, we are that suaku (it means not well-informed). I think there's a free parking area around there as well, but there's a very long line of cars waiting. The parking at The Punggol Settlement sets us back $0.75 per 30 minutes after 5pm (I think it's cheaper in the earlier part of the day).
1. Punggol Ranch
It's less than 5 minutes from the carpark! I think you can actually stay there as it's supposed to be a resort :).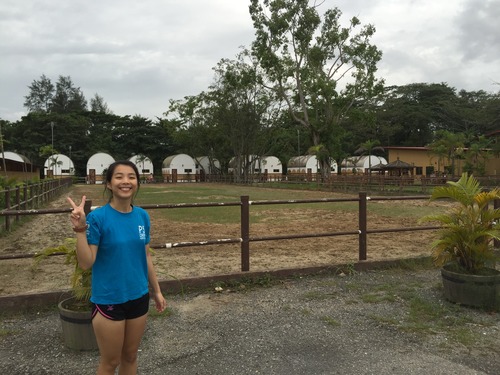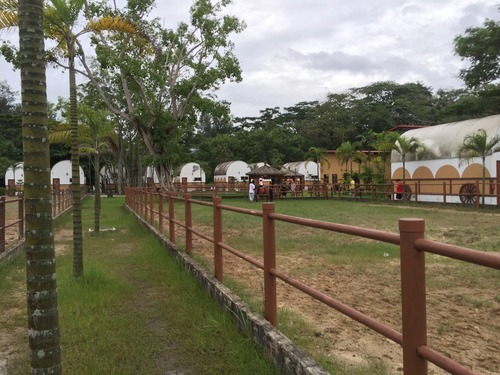 See the pony in the background?
2. Punggol Point
The Punggol Settlement is located right within Punggol Point, so do check out the place. There's the huge lily pond but we did not see many lilies when we were there :(. There's also the jetty. Lots of people were there just enjoying the sea breeze when we were there.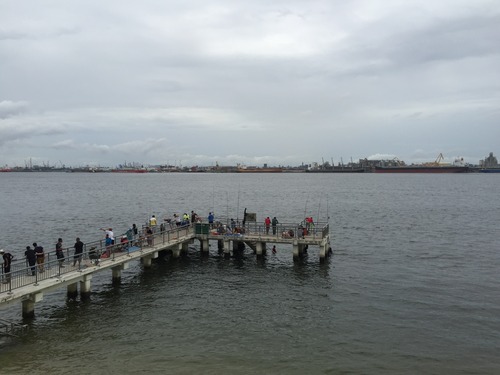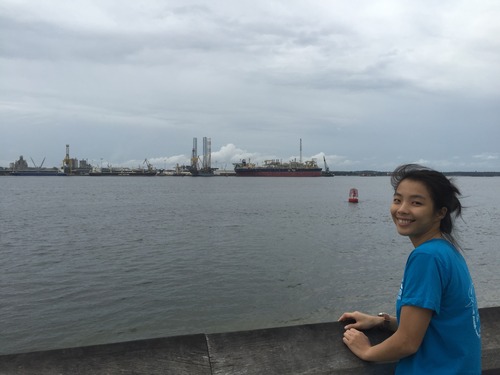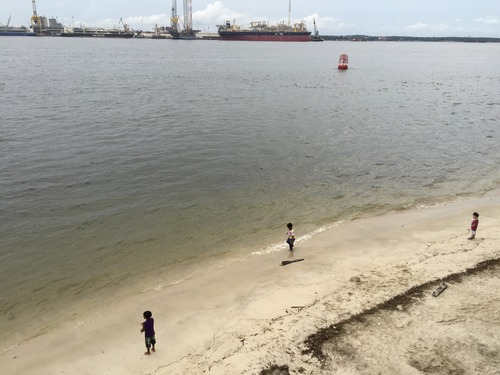 I love seeing kids having outdoor fun (versus touching iPads, iPhones)
3. Rent a Bicycle
A little backstory here. After Punggol Ranch, the first thing we did was to actually try and find a bicycle rental kiosk. We could not find Jomando (which was mentioned in the Sqkii article), and we saw a GoCycling kiosk (it's located at the start of Punggol Promenade near Punggol Point). Unfortunately, it was closed! Our original plan was to then drive to Punggol Park and rent from the GoCycling kiosk there since there was a notice at the Punggol Promenade's kiosk suggesting us to do so. However, we decided to explore the Punggol Promenade and Punggol Point area a bit first…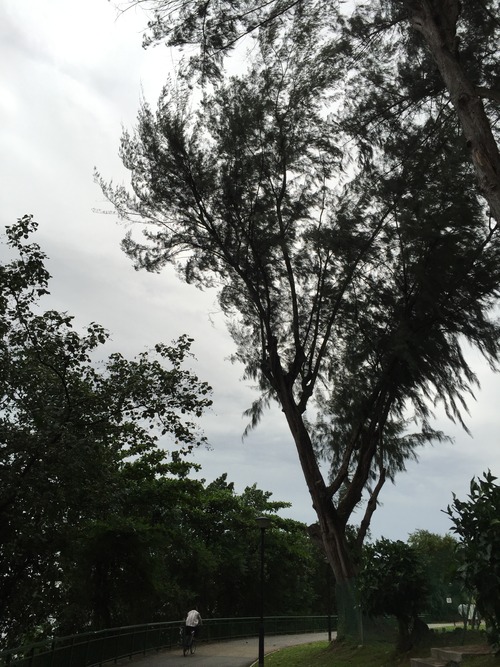 Anyway, as luck would have it, we managed to find Jomando. It is located at one of the ends of The Punggol Settlement. Their Facebook page isn't updated and points you to Punggol Park, which is incorrect.
We rented two bikes, and headed off. We did not have much of a route in mind and just tried to follow the Park Connector, which lead us to lots of interesting places!
4. Punggol Promenade
We started off by cycling along the Punggol Promenade. It's quite quiet (compared to East Coast Park), and there's a pretty nice and different view.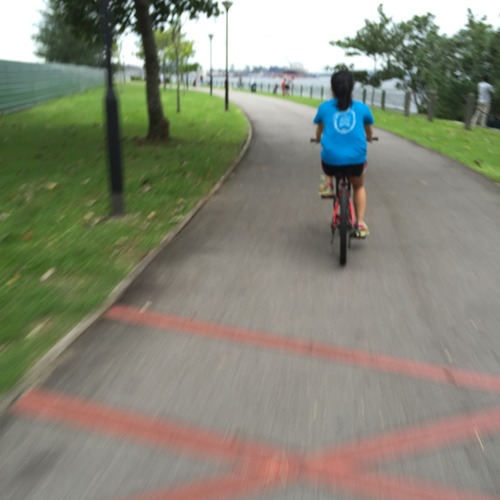 Me trying to grab a shot of Sheryl while cycling.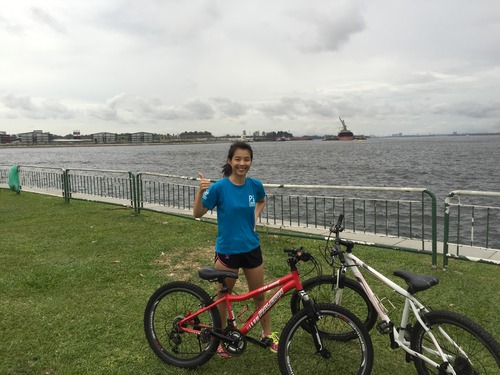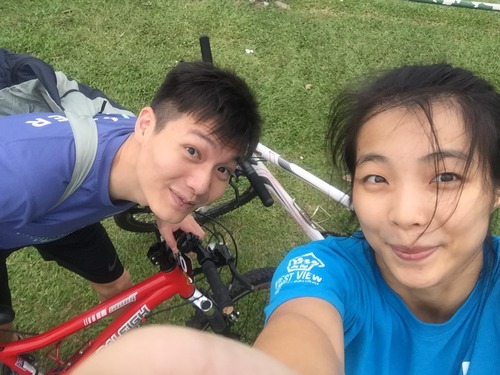 You'll exit the Punggol Promenade and see PCN (Park Connector Network) signs on the floor. If you follow it, you'll arrive at a traffic light. I didn't take a shot but this traffic light is actually quite cute. There's the usual green man, but there's also an additional green bike sign :)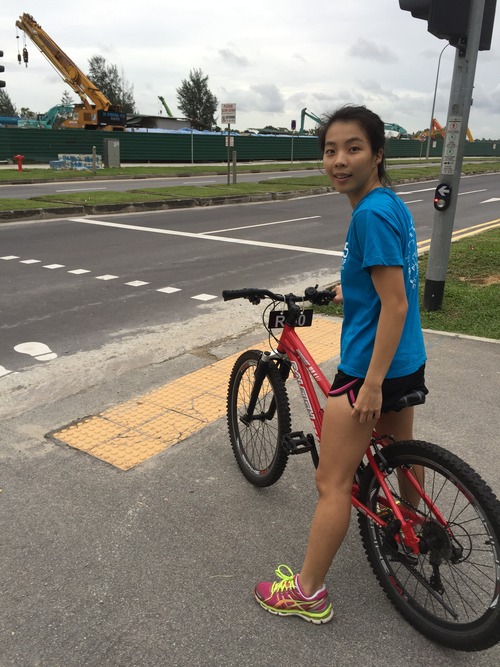 5. Punggol Waterway Park and Its Many Beautiful Bridges
Once you cross the traffic light, you'll see the dam after a short cycle.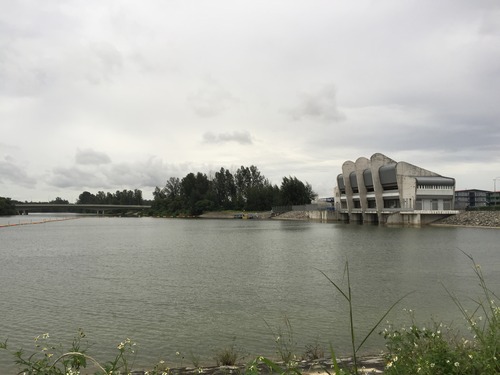 a. Jewel Bridge
A short distance more, and you'll be in the Punggol Waterway Park. The first bridge we saw was the Jewel Bridge, which forms part of the Sunset Strip. I think this bridge is also referred to as the Sunset Bridge, but the name on the bridge itself says Jewel Bridge. I spent most of the ride trying to find out where exactly Sunset Bridge is only to realize it was the first bridge we saw!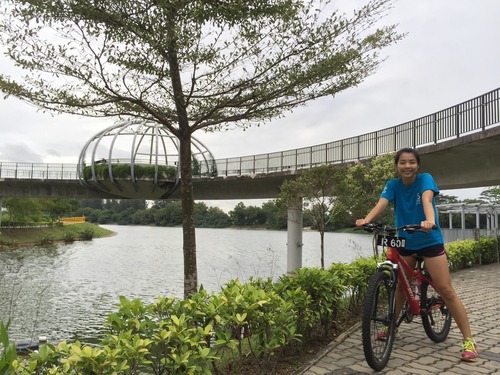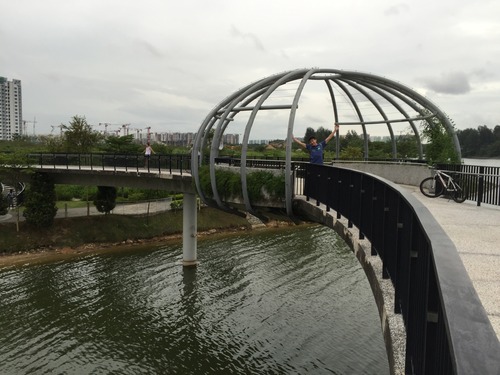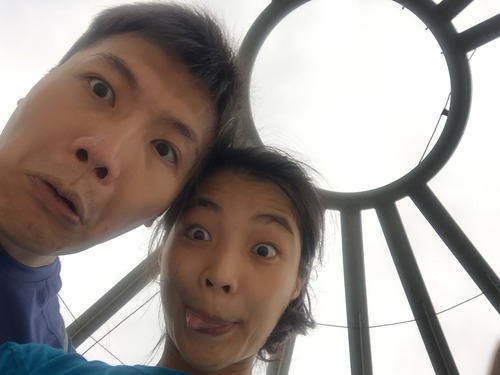 b. Robots in Love
Cute painted wall :)! Sheryl and I took this on our own using panorama mode, in one try. Super happy with the result :P.

c. Heartwave Wall and Bridge
A short distance down and you'll see another bridge. Unfortunately I can't find what this bridge is called, but it's very at/near Heartwave Wall.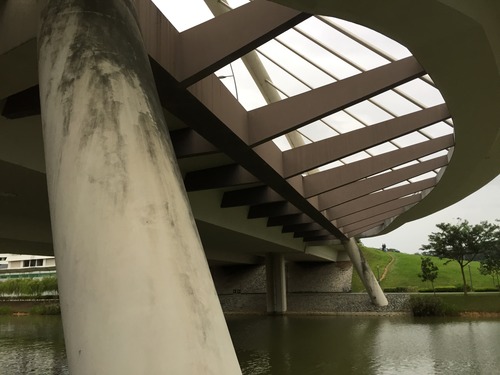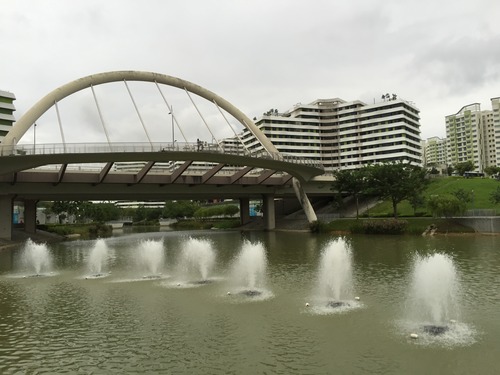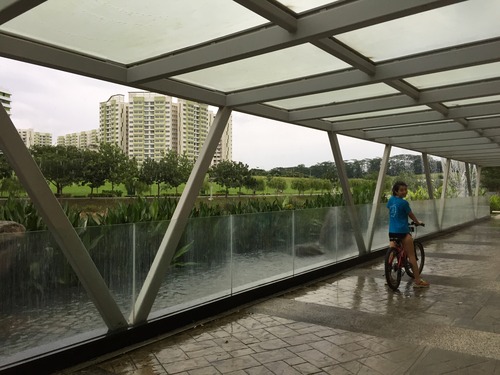 d. Water Playground and Adventure Bridge
The water playground looks like a fun place for kids :)! Also, there's a toilet at this spot as well, just in case you need one.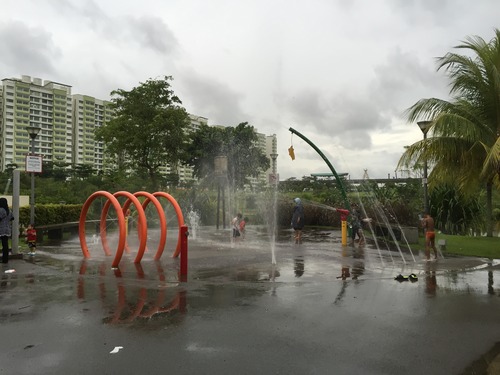 From the water playground, we headed to the nearby Adventure Bridge.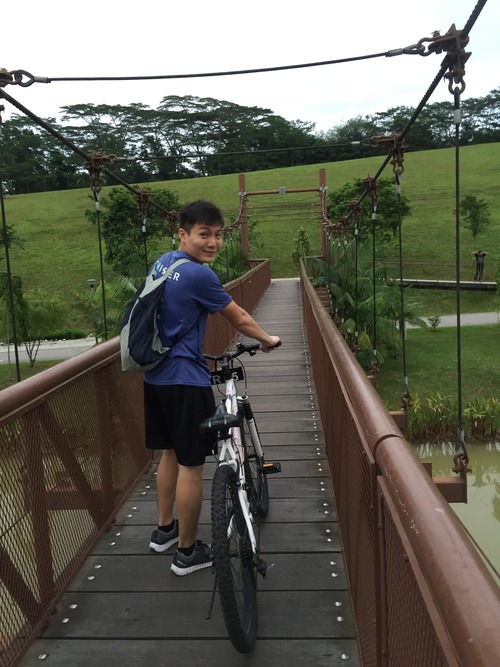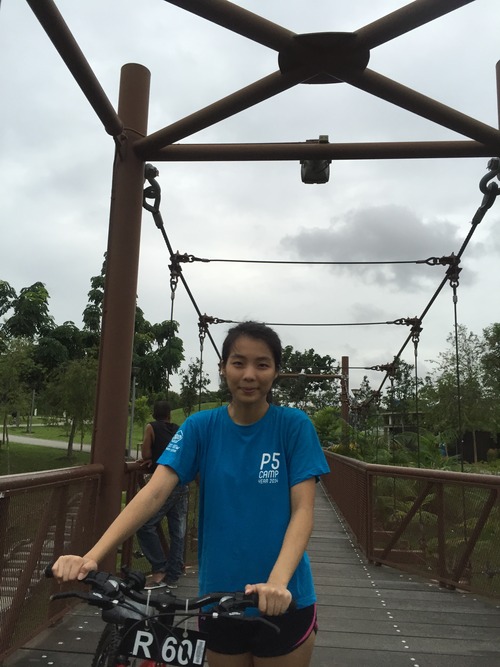 More cycling and photos after we crossed the bridge…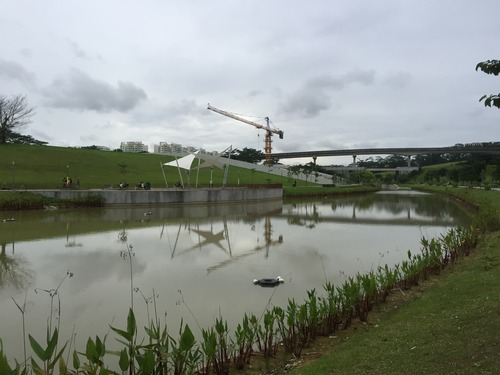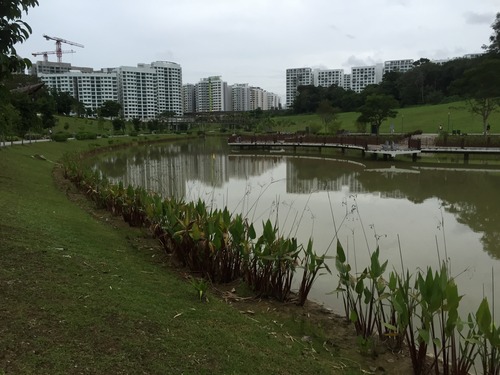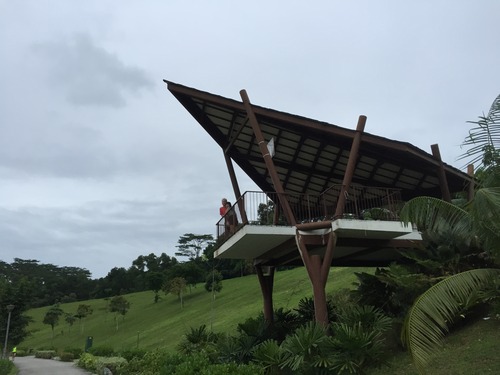 e. Kelong Bridge
Quite self-explanatory :P. We did not spend a lot of time here and just cycled by as it was getting quite dark.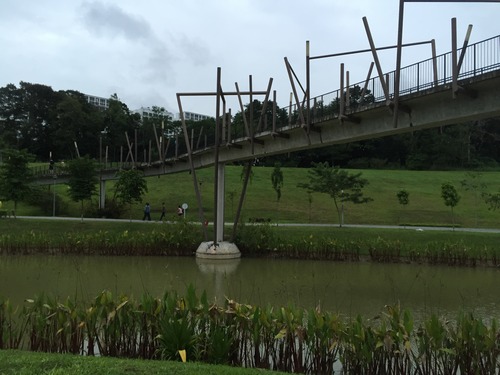 f. Sunset Bridge
Along the way, you'd see Wave Bridge. If you just cycle on (meaning you go up the bridge and down) along the waterway, you'll soon arrive at Sunset Bridge. The directions at the Wave Bridge can be a bit misleading in my opinion (I wanted to take a left turn but thankfully Sheryl got her way :P). Unfortunately it was a really cloudy day, so there were no sunsets to be seen.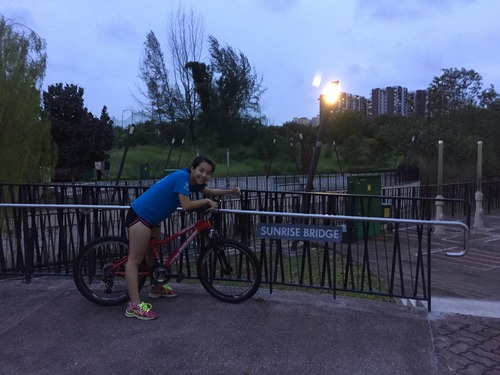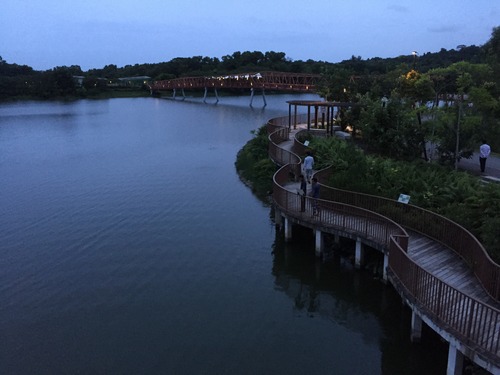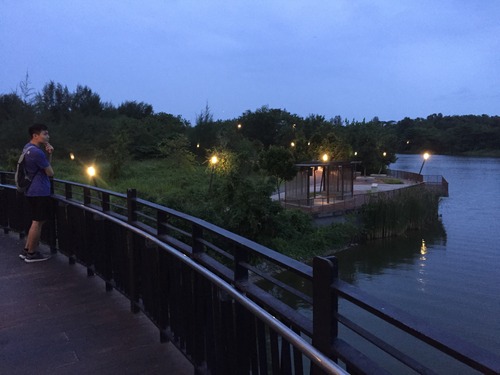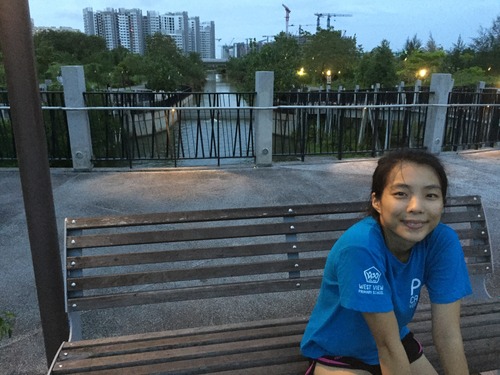 <3
g. Lorong Halus Bridge and Lorong Halus Wetland
We crossed this bridge to Lorong Halus Wetland. However, it was getting quite dark and our stomachs were quite empty by then, so we decided it was time to head back :)!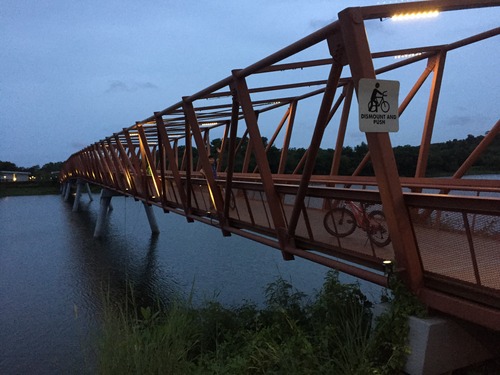 h. Journey Back to Jomando
From the Lorong Halus Bridge, we took a more or less the same route back, but on the other side of the Punggol Waterway. Here are some of the shots we took along the way: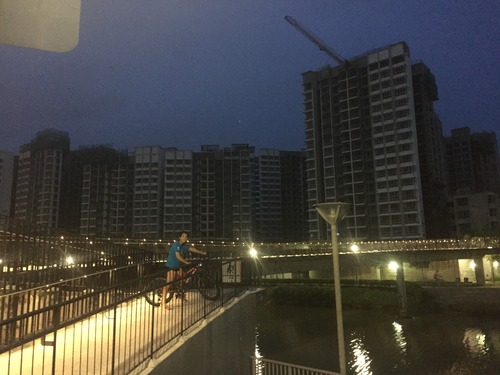 Wave Bridge :)! We passed by this earlier to get to Sunset Bridge.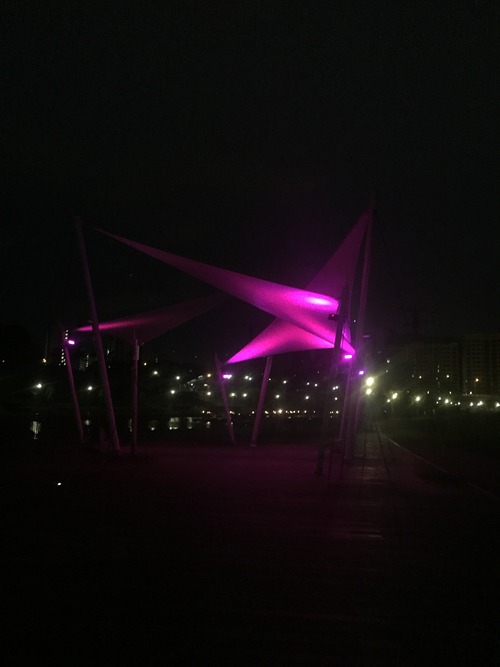 Mood shelter? :P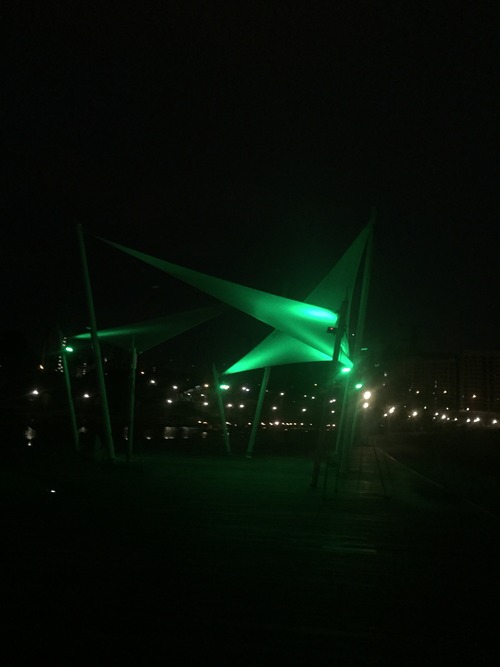 Mood shelter? :P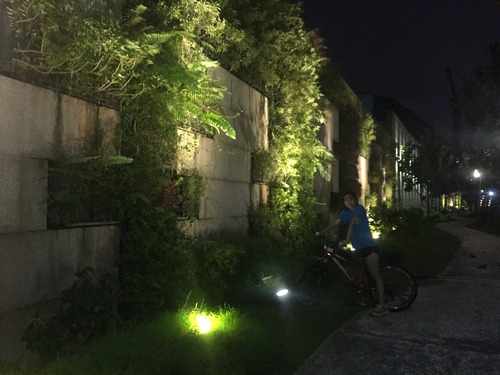 We took a path on the left of the Heartwave Wall which leads up, but then there's a lot of stairs in the middle and I'm not sure if it leads to a dead end or not, so we headed down and went back to the initial path.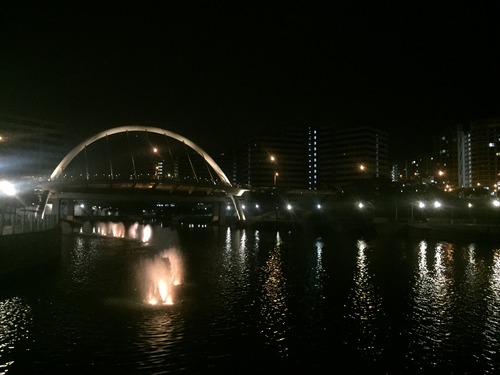 The bridge near Heartwave Wall
6. Food!
We arrived back at Jomando shortly, and it was time to eat! Sheryl got some ice-cream…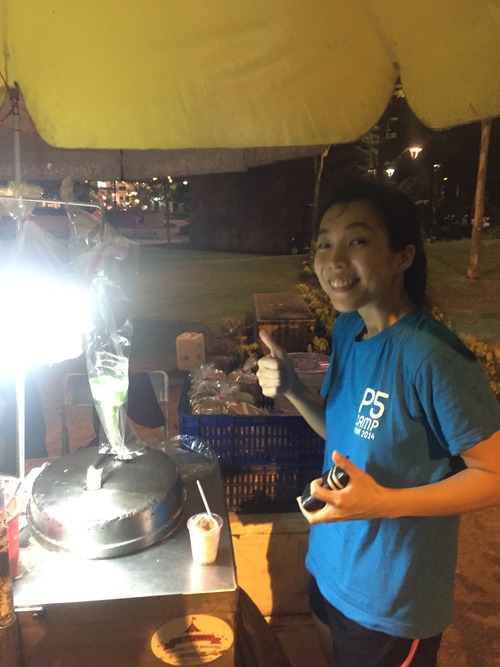 We both love this old-school ice cream! Hehe. Cheap and good and especially rewarding after exercising!
Then we headed to The Punggol Settlement to look for food. There's really a lot of food there. We decided on Horizon after looking hard and not so long. Sorry for the lack of descriptive names for the food, I can't remember their actual names on the menu. However, the food is super tasty! We really, really loved it! The chicken and pork were both so tender you could slice right through it with almost no effort. Highly recommend this place. Plus you get an awesome view if you sit outdoors!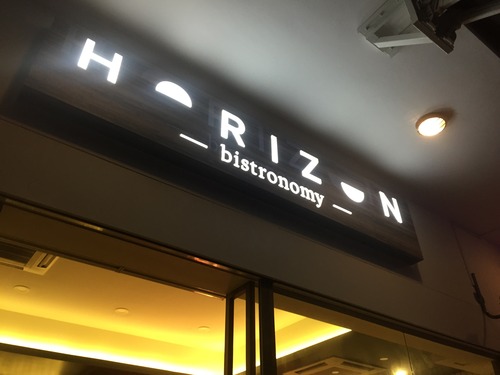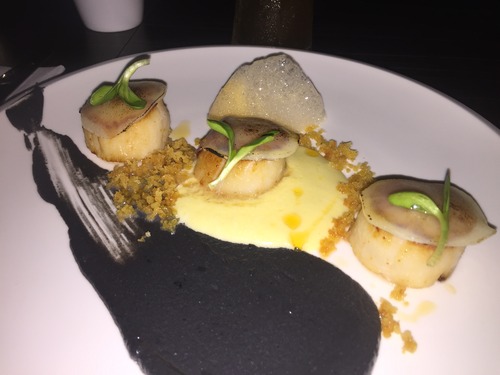 Scallop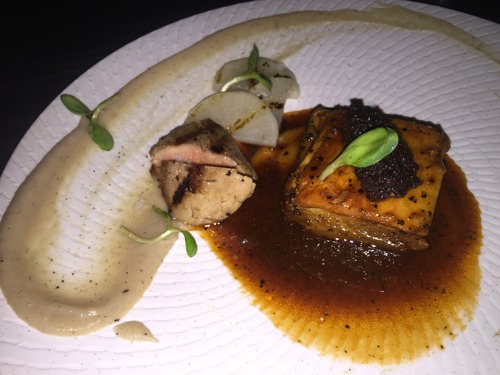 Kurobuta Pork

Chicken
Summary
The entire trip took us about 2.5 hours. We rented the bicycles at 6pm (Jomando has a rent 2 hours and get 1 hour free deal, at $8 per bicycle per hour), and returned it before 8.30pm. Also, there was drizzling on our way back, which was a good chance to test out the LifeProof case that I bought recently for my iPhone 6. It's a rugged waterproof case and so far I'm quite happy with it :P, but more on that another time.
We thoroughly enjoyed the day out at Punggol, highly recommended if you're looking for a date idea (:P) or a day out with your friends/family!
comments powered by

Disqus